If you want to spend more time in your outdoor area, you'll want to upgrade your outdoor space into a place your whole family will love. But you don't need to spend a lot of money sprucing up your backyard.
Upgrading your backyard doesn't have to be expensive or time-consuming. A few affordable projects and design tips can turn your basic backyard into the greatest outdoor retreat. Try these backyard ideas on a budget, including DIY furniture and affordable landscaping tricks, to design a yard you'll adore and never want to leave.
Easy Fire Pits
If you want a quick and easy project that will add ambiance and late-night beauty to your yard, start with a fire pit. There's nothing like sitting around the fire on late summer nights, roasting marshmallows and toasting friends. Fire pits don't have to be hard to construct, either. There are several easy DIY fire pits online that you can use as inspiration!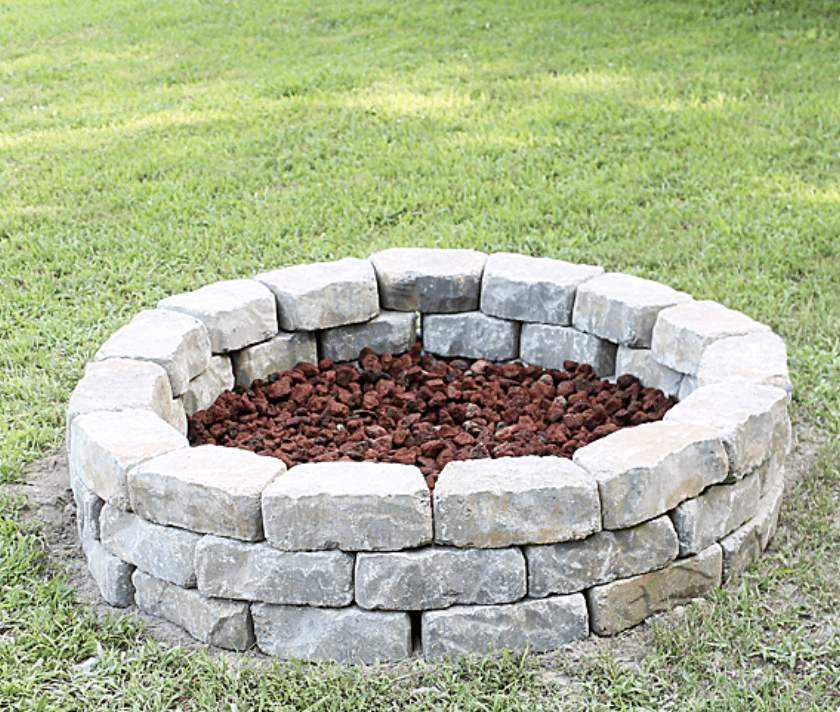 A firepit is a backyard must, especially if you live in a location with a cooler climate, but it can be pricey. You can still gather around a nice firepit by making your own at a considerably lower cost. To do this, surround a metal firepit bowl with cinder blocks or pavers in a staggered pattern to mimic the look of a nice stone firepit.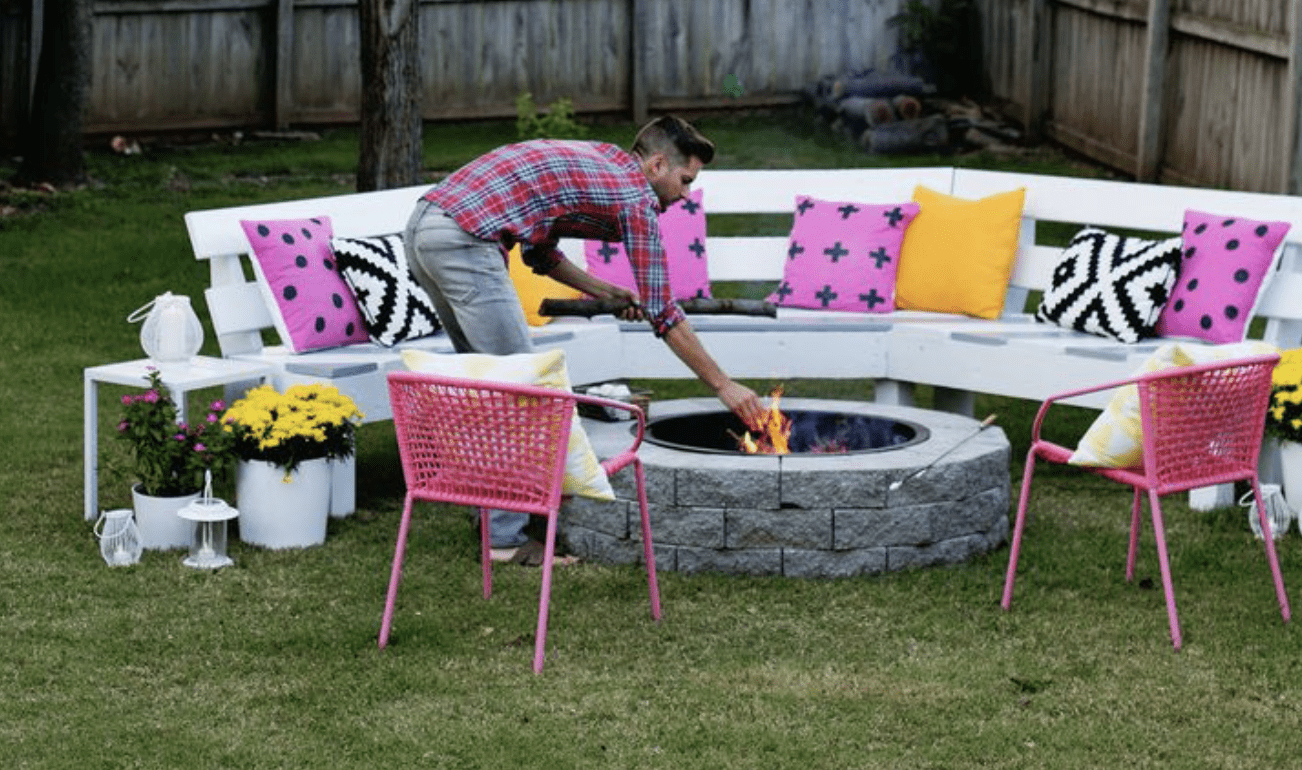 Related: 10 Gorgeous Decks with Fire Pits with Stunning Views to Match!
DIY Privacy Screens
If your backyard lacks privacy, there are plenty of ways to create your own. From lattice walls to actually building privacy walls, there are plenty of options to choose from, and you can certainly do it on a budget. You can recycle materials to create a pallet wall or even check out your local buy-and-sell sites for wood materials that people may be getting rid of.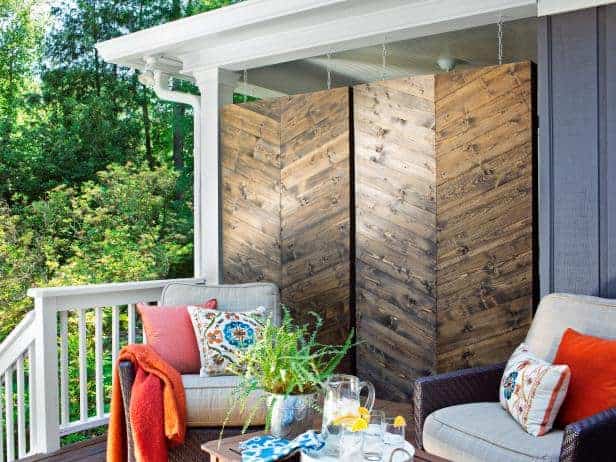 Related: Budget-Friendly Privacy Screen Ideas for Your Outdoor Space
It's always pleasant to have some privacy when you're enjoying the outdoors with a book and a cocktail, but depending on where you live, it might be difficult to get that privacy. If you have a pergola or gazebo, hang curtains — you can even use drop cloths for a more budget-friendly option to enjoy peace and quiet.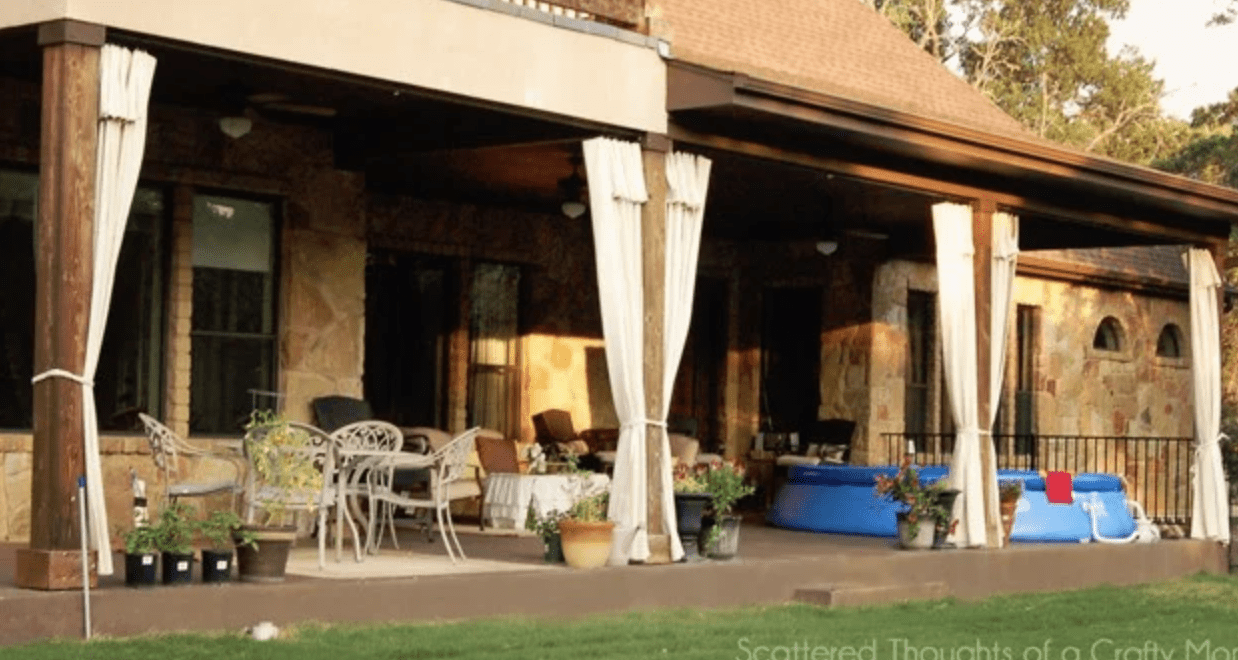 Easy DIY Outdoor Furniture
If you're working with a budget when it comes to your backyard, try your hand at making your own DIY patio furniture. These are several online tutorials that offer instructions for all skill levels. You can go as simple or as complex as you like with your DIY patio furniture.
This outdoor couch looks like it's straight off the store shelf, but it's a surprisingly easy DIY build.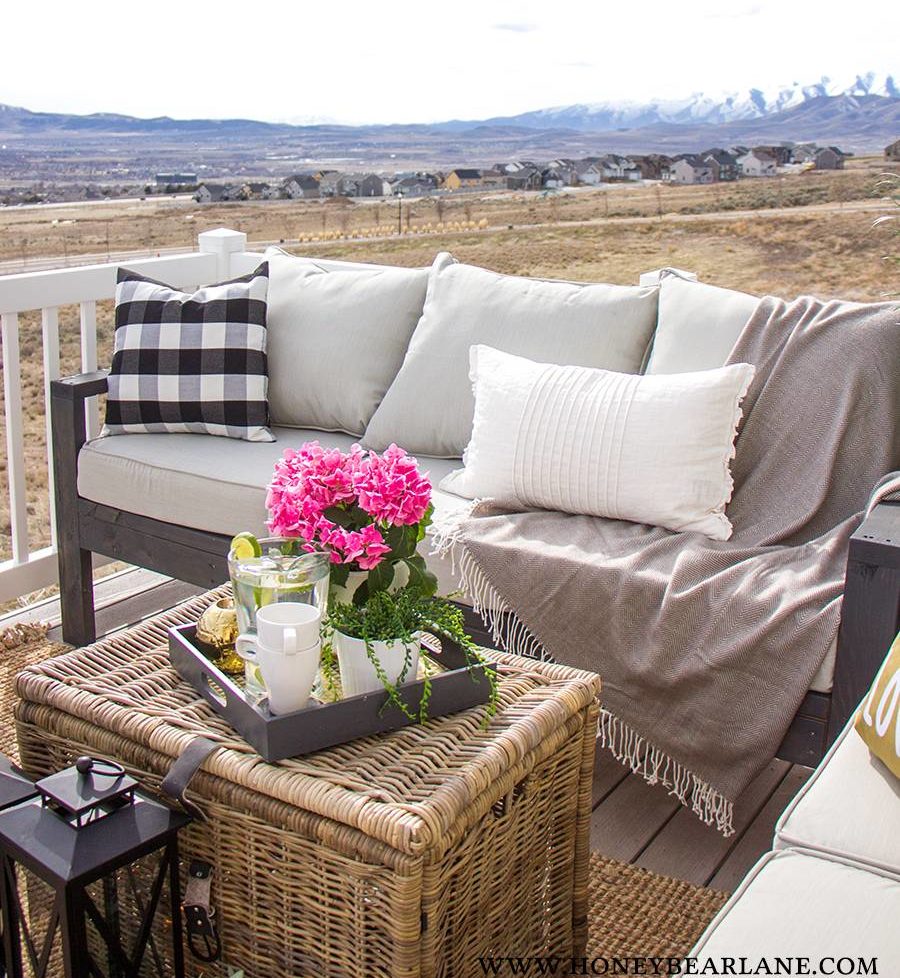 Here is a great knockoff if you've been coveting those expensive pieces from your favorite stores like West Elm. This bench can be made for a fraction of the price of those expensive West Elm pieces, and no one will be the wiser.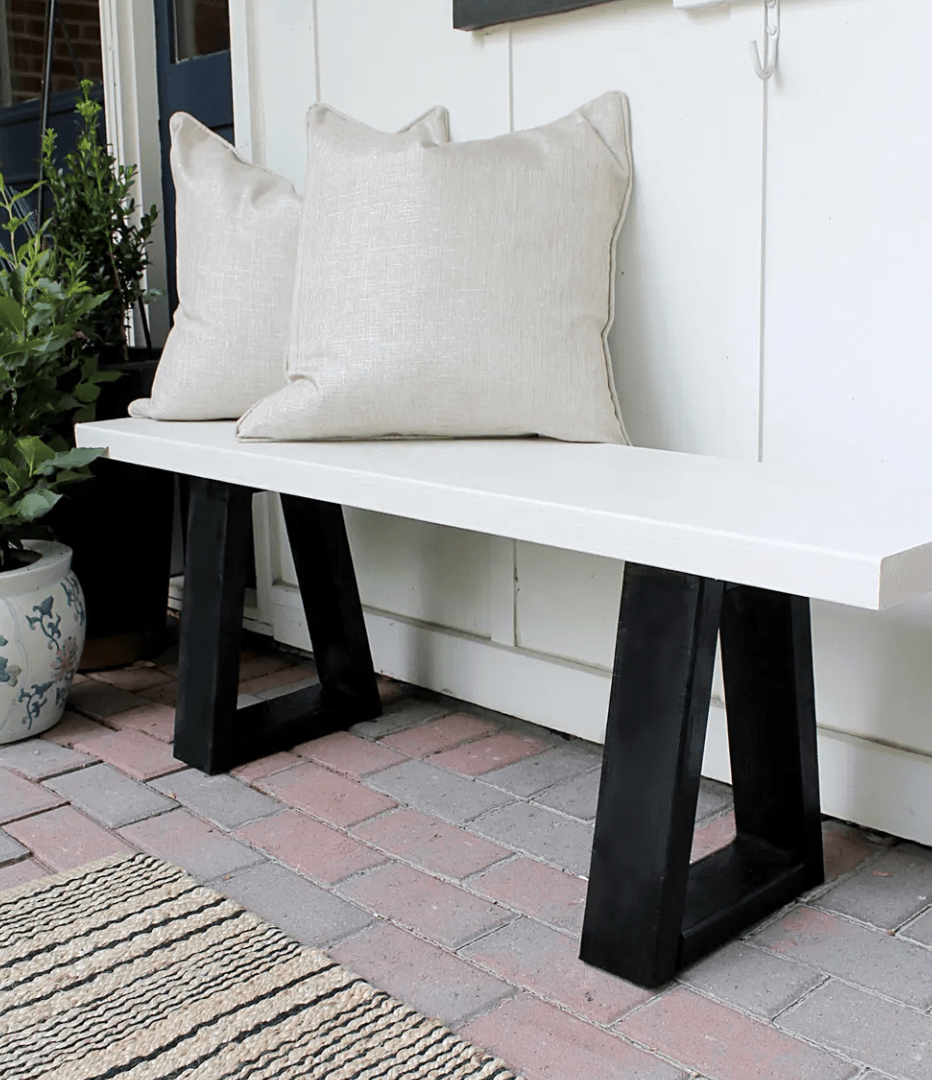 To really make great use of a budget, you can try your hand at a pallet couch. You can often find pallets by the side of the road or check with local businesses. In most cases, they are more than happy for you to take them off their hands.
Backyards are for entertaining, and this table will do just that! This creative dining table with built-in coolers keeps your beverages cold and right at hand. This build is a little more labor-intensive but is certainly budget-friendly.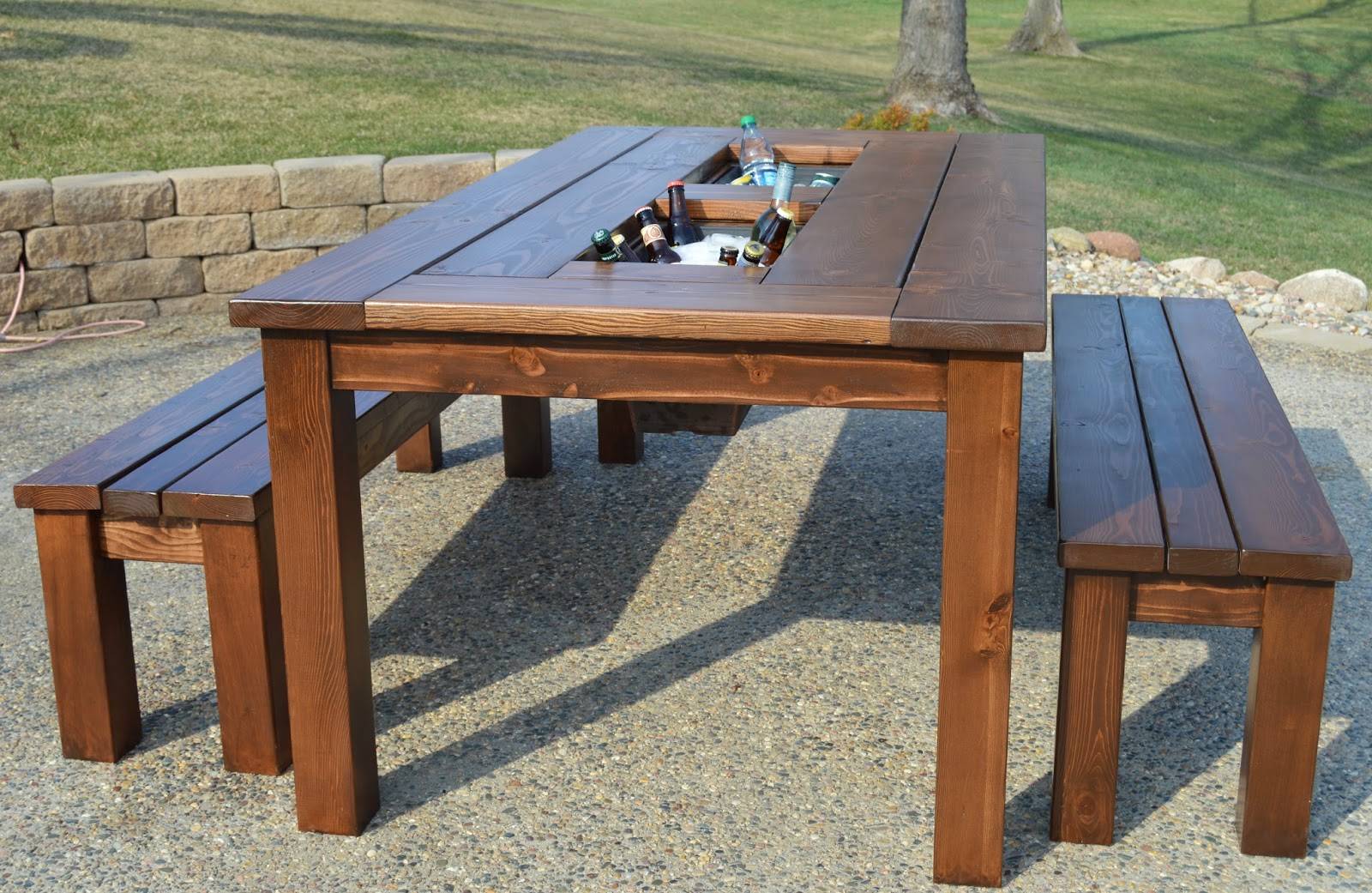 Give your feet somewhere to rest when you're relaxing in your backyard. These DIY jute ottomans are easy to make and add some natural texture to your backyard oasis.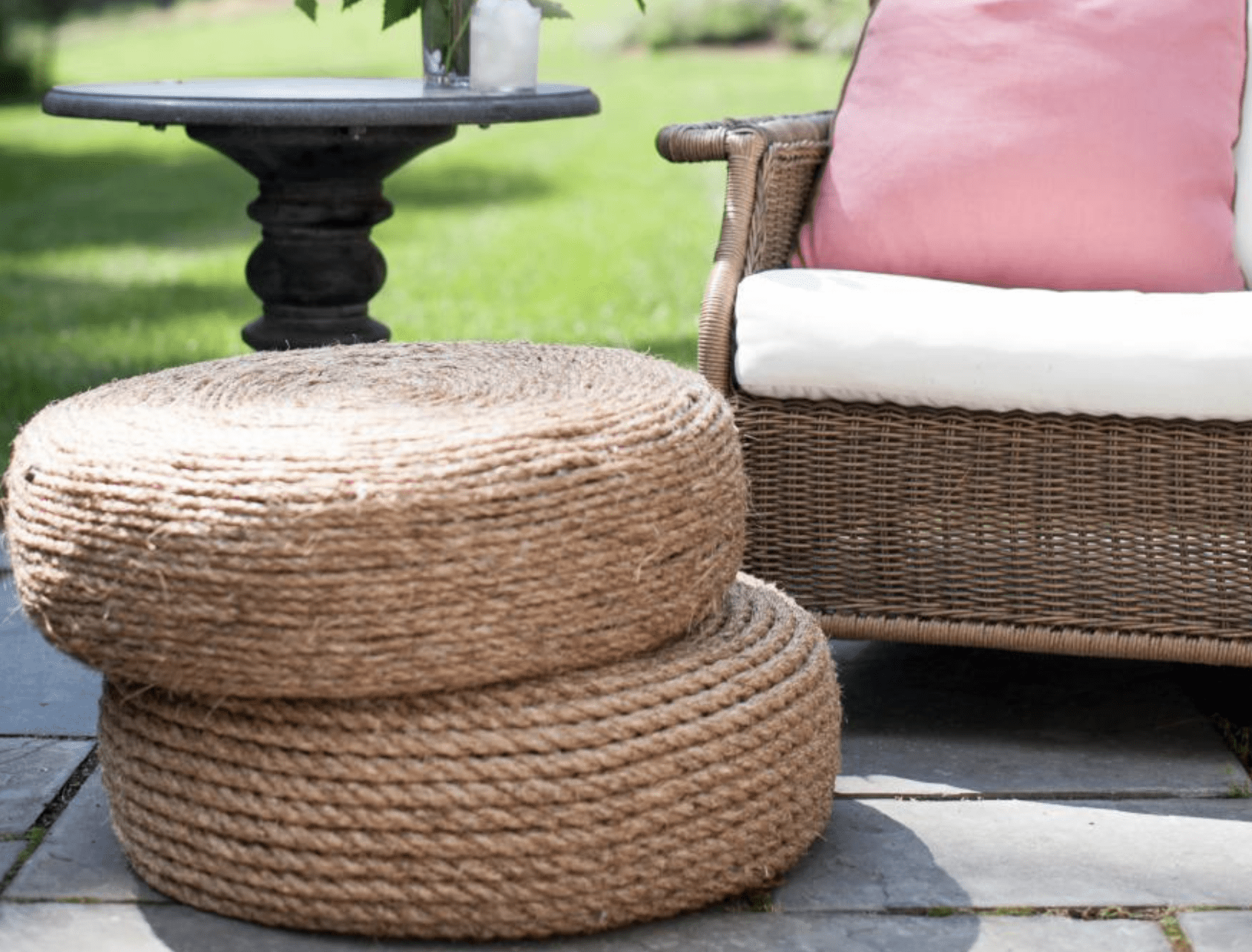 Outdoor Hanging Bar
This DIY is perfect for those that may be short on space in the backyard but still want a budget-friendly solution for serving up drinks for their guests. A hanging bar that you can mount right on your exterior wall won't take up much room, and since it's smaller, the supplies won't cost you a lot of money, either.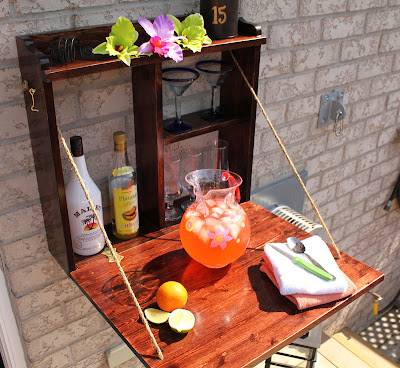 Build a Pergola
Nothing adds beauty to a backyard like a pergola. It's the perfect addition to any backyard and creates structure and dimension. It also provides a place for you to hang curtains and string lights.
You can certainly make a pergola on a budget, and you can make your pergola as simple as you like.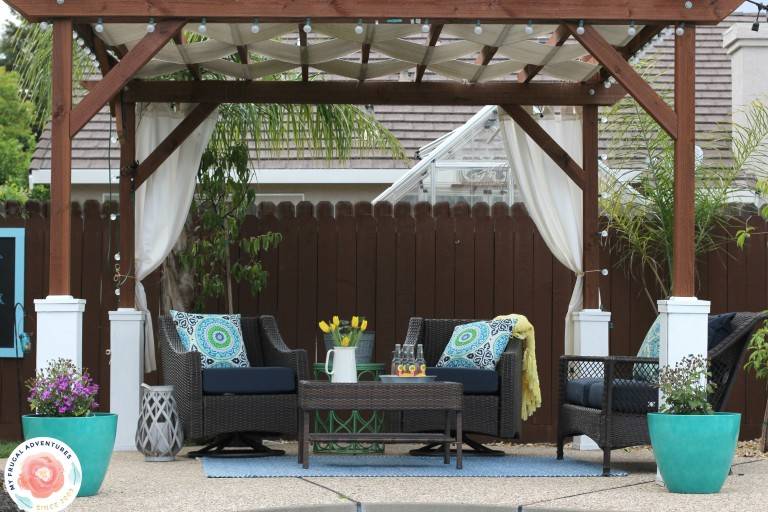 Lighting Ideas
Add some string lights to your patio for a stunning night light display that will make you want to hang out all summer at night in your backyard oasis. If you love entertaining, lighting up your patio with string lights is a great way to ensure your guests feel welcome.
String lights are available in several different styles and varieties, from faerie lights to globe bulbs. You can also light up your patio table with lit lanterns, too.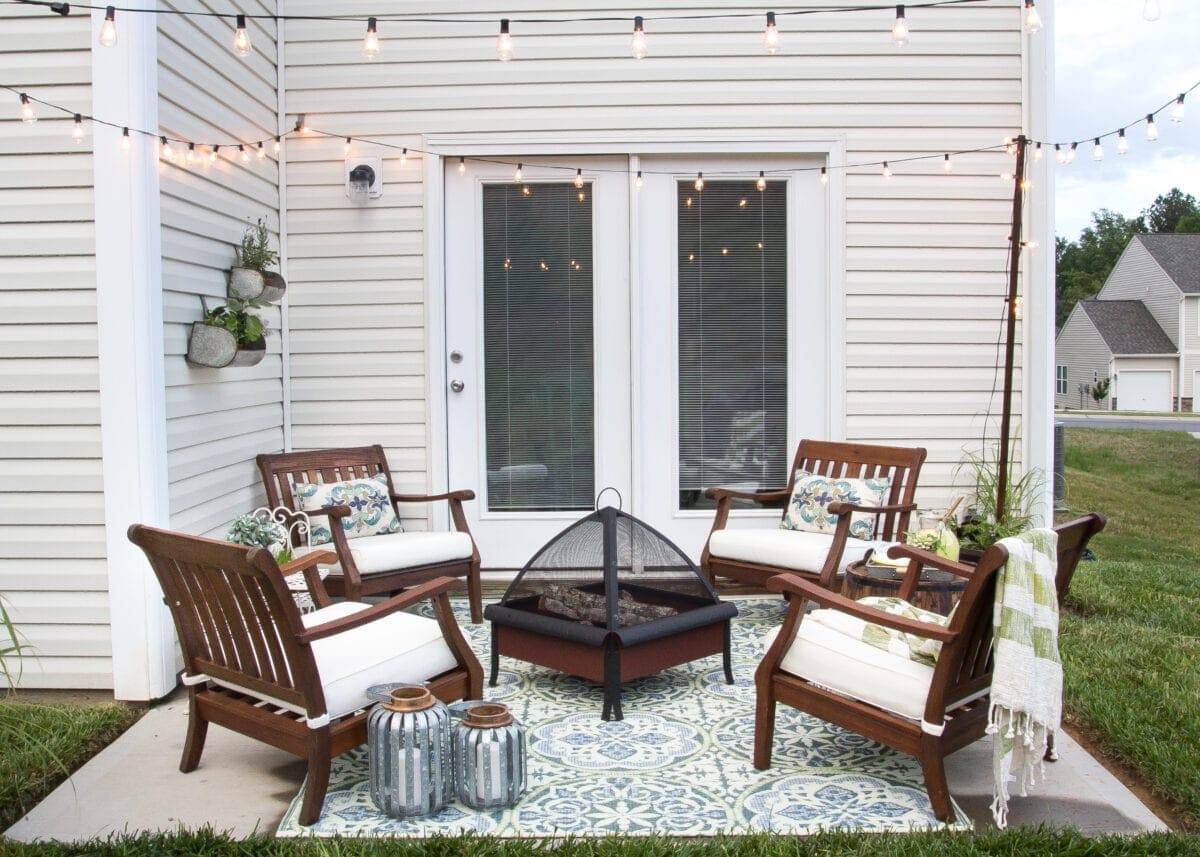 While we are on the subject of string lights — these backyard beauties are perfect for someone that wants some decorative lighting but doesn't want to bring in the pros. String lights will plug in or can even be solar-operated. String them from your fence, around trees, or under pergolas and gazebos.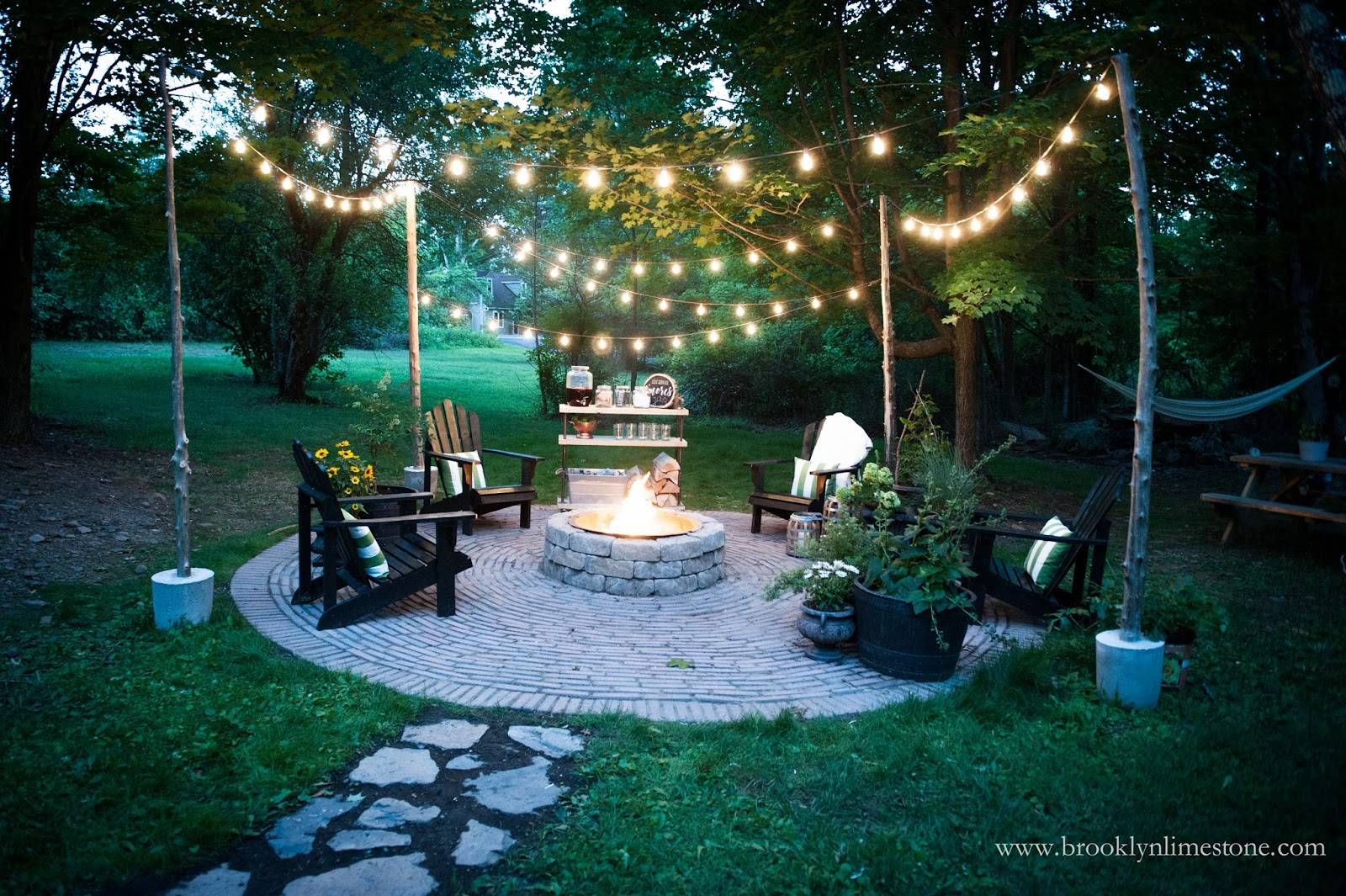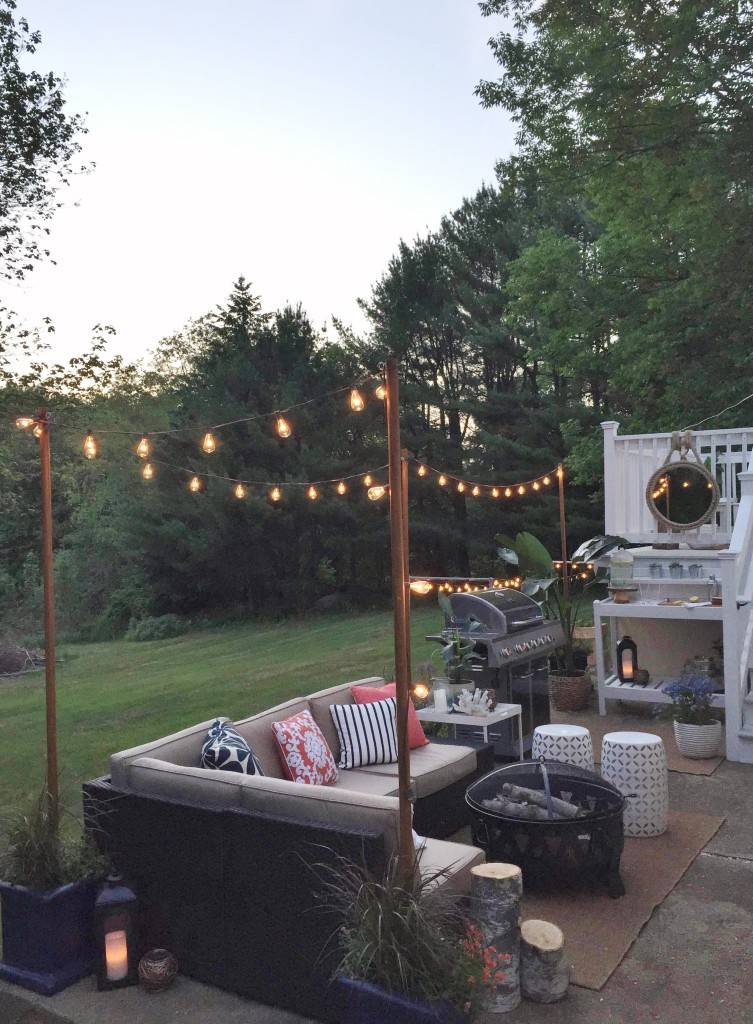 These clever orbs are an inexpensive DIY that you can easily make to add some ambient lighting to your backyard. It doesn't take much either — you just need some string lights and some wire-hanging baskets.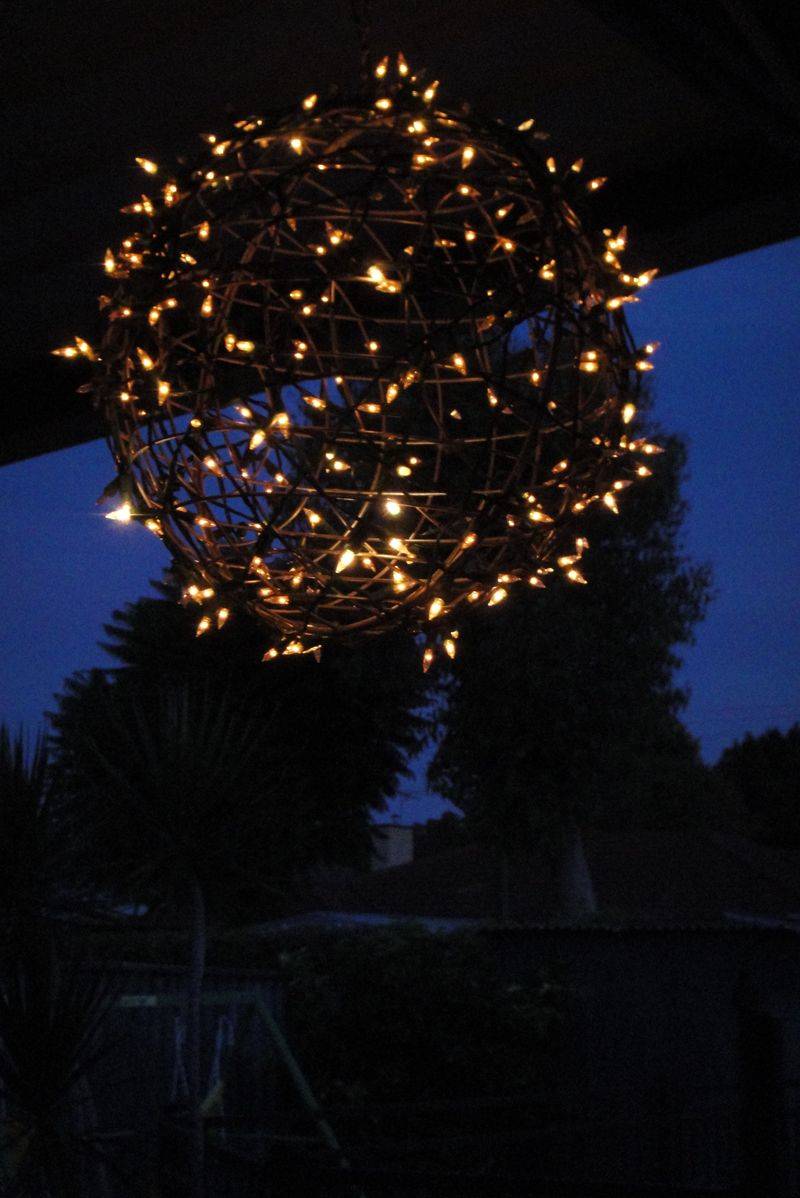 Tiki Torches are sure to set a fun mood in your backyard, and you can install them into a planter for a more permanent solution rather than having them just in the grass.
If you decide to go this route, your tiki torches are more permanent fixtures and will look high-end. You can also plant flowers in the pot for a burst of color in your backyard.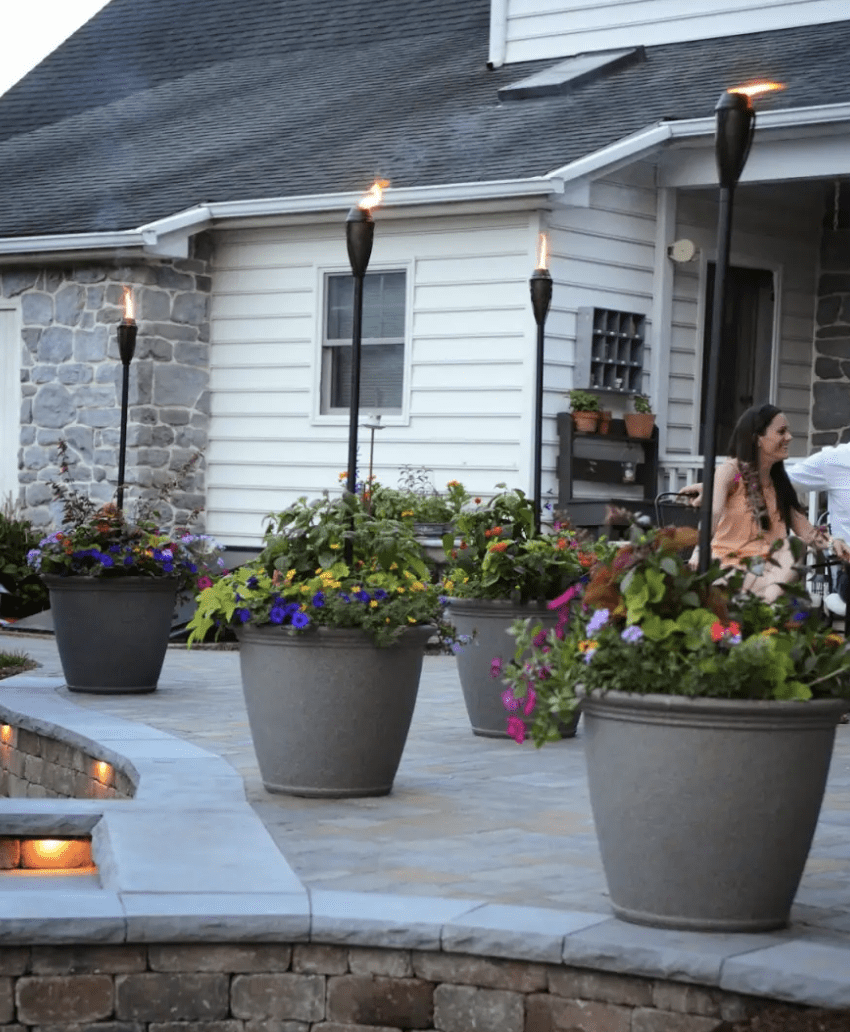 Elevate your solar lights by making wooden stands for them. This will bring a little more of an expensive look to your backyard while saving your wallet.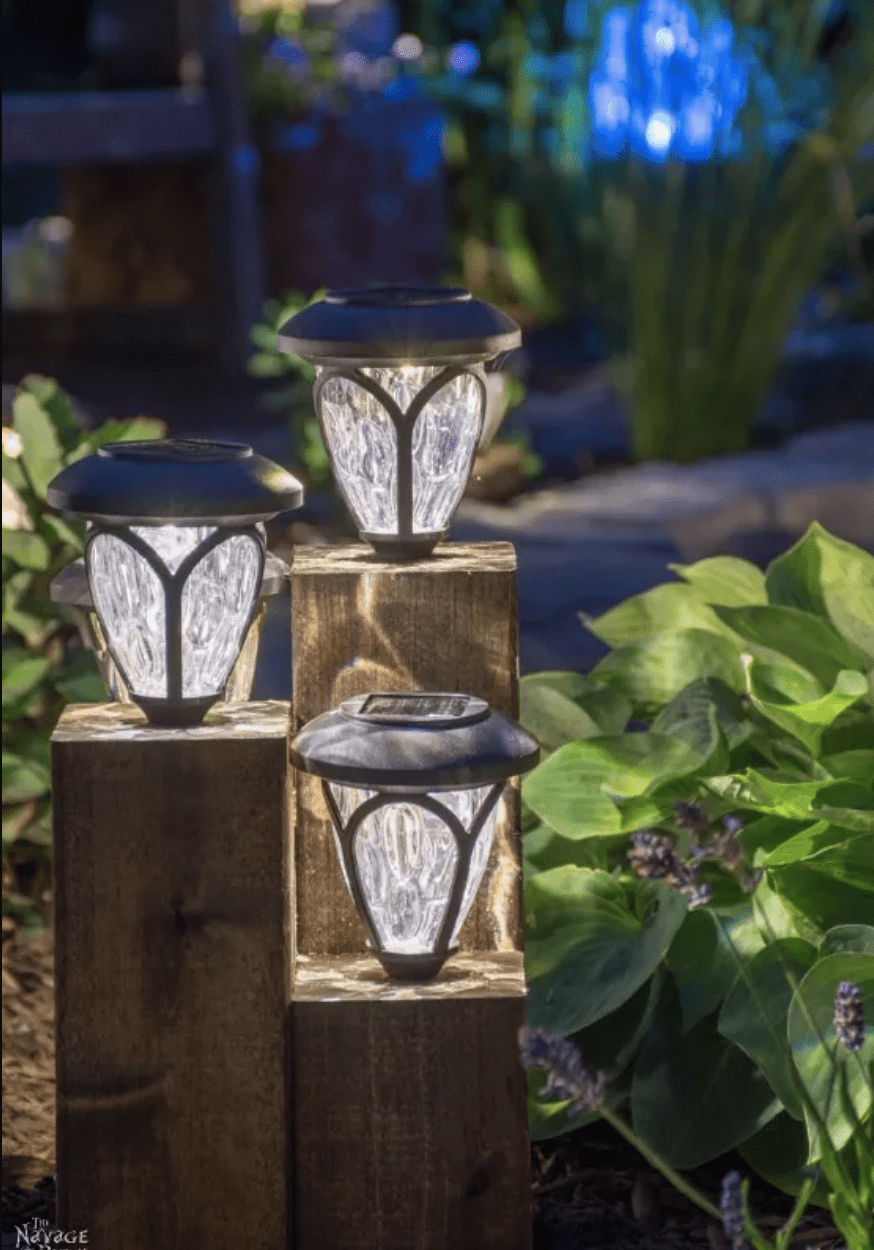 To create ambiance in your backyard for quiet summer nights, thoroughly fill Mason jars or other glass jars with LED battery-operated string lighting and hang them from trees using rope and hooks. They're reminiscent of fireflies; you can keep them up year-round as winter decor against a snowy backdrop.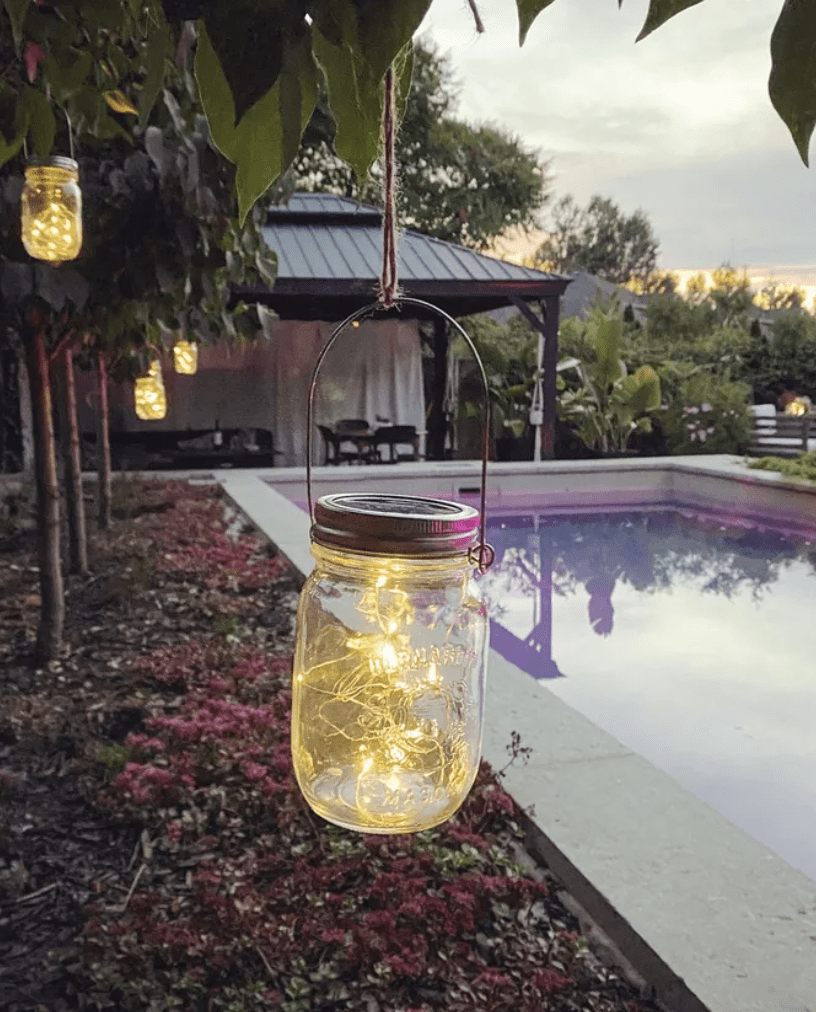 Related: Landscape Lighting Ideas for an Immersive Backyard
Easy Ways to Build a Patio
If you don't have a patio and you want to designate a certain spot for relaxation and entertaining, no fear. You can easily create a patio space without having to put in a massive extensive deck or porch. Ground-level pea gravel patios are becoming increasingly popular and don't require a ton of money or manual labor.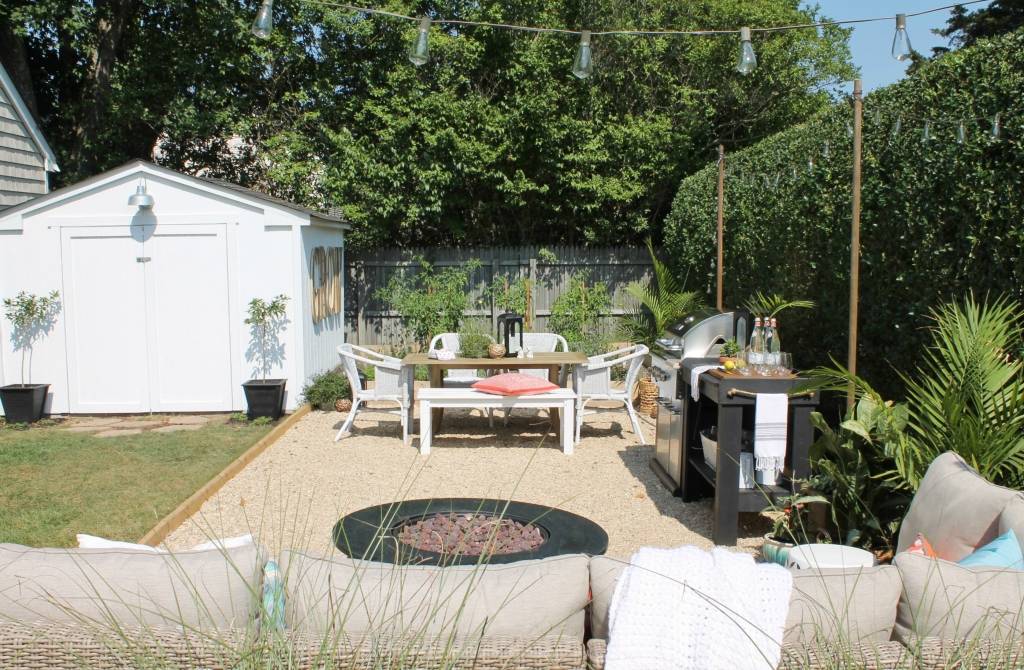 You could also do an easy DIY flagstone patio right off your back door. You could, of course, hire a professional to do this, but if you wanted to save money, you could go the DIY route.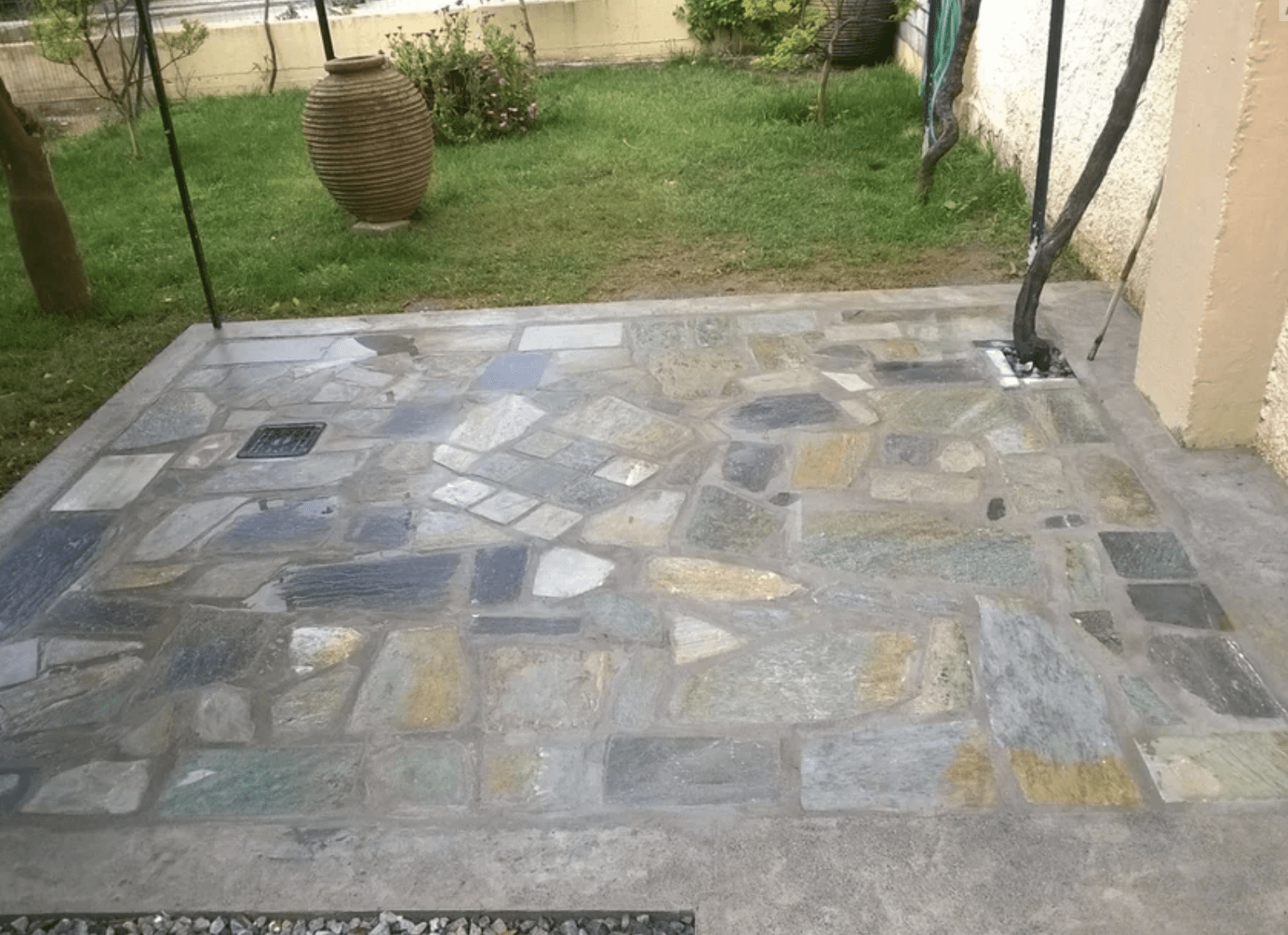 Related: 40 Concrete Patio Design Ideas & Elevate Your Backyard Space
If you have an existing patio and you want to add a little flair and style, try painting out some of the squares with bright, fun colors. This is a great look for summer and something bold and bright that will bring a smile to your face.
Alternatively, if that is your taste, you could work off of this idea and go with a more neutral palate. Try a checkerboard pattern or even stencil on a stylish tile design. This is a project that could be completed in one afternoon and wouldn't cost a ton of money.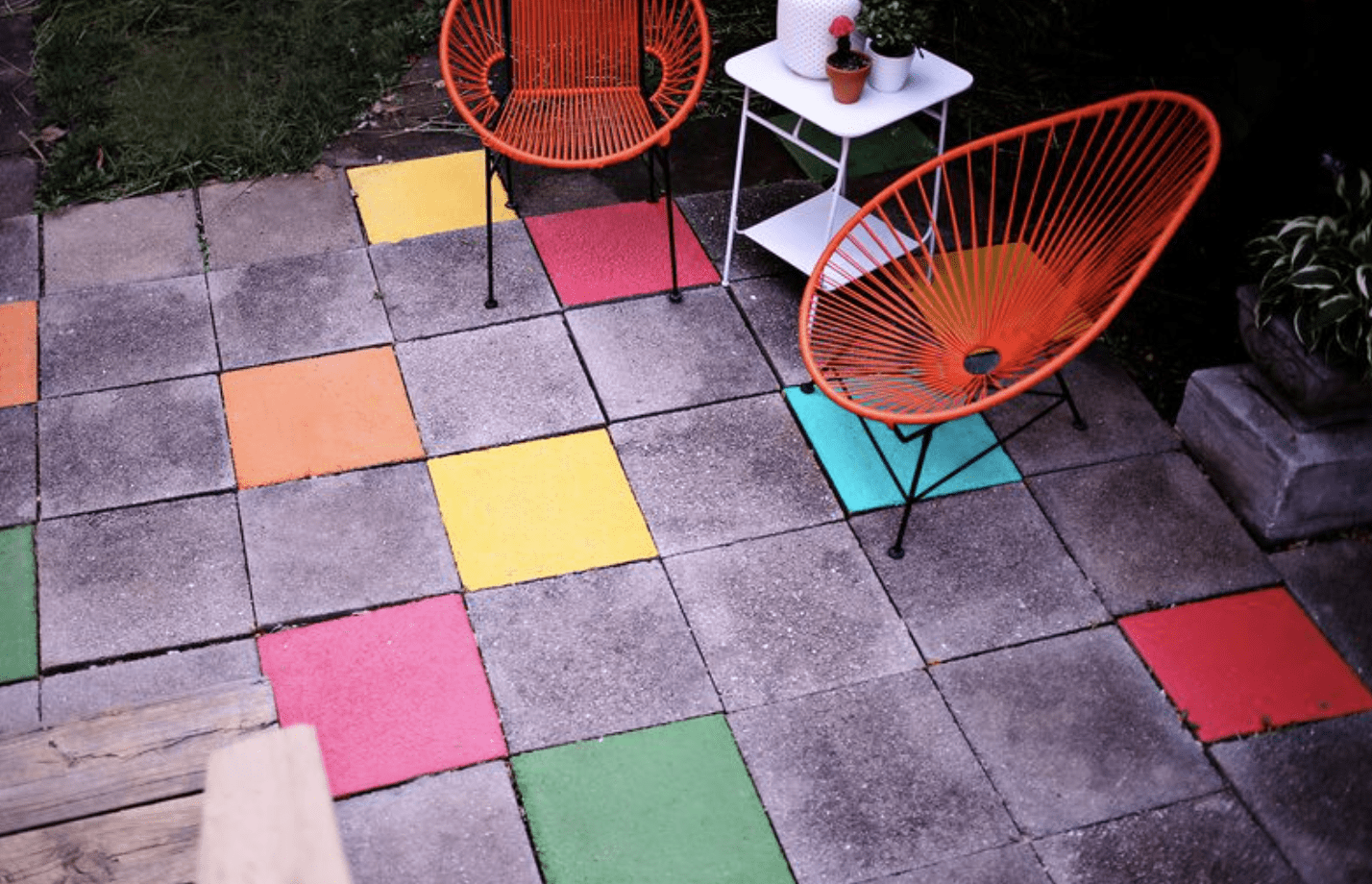 Water Features
Water features are a great cost-effective decor element to add to a backyard or patio. Create a serene ambient feel to your backyard with a running water feature. You can get small water features are inexpensive prices or even DIY your own!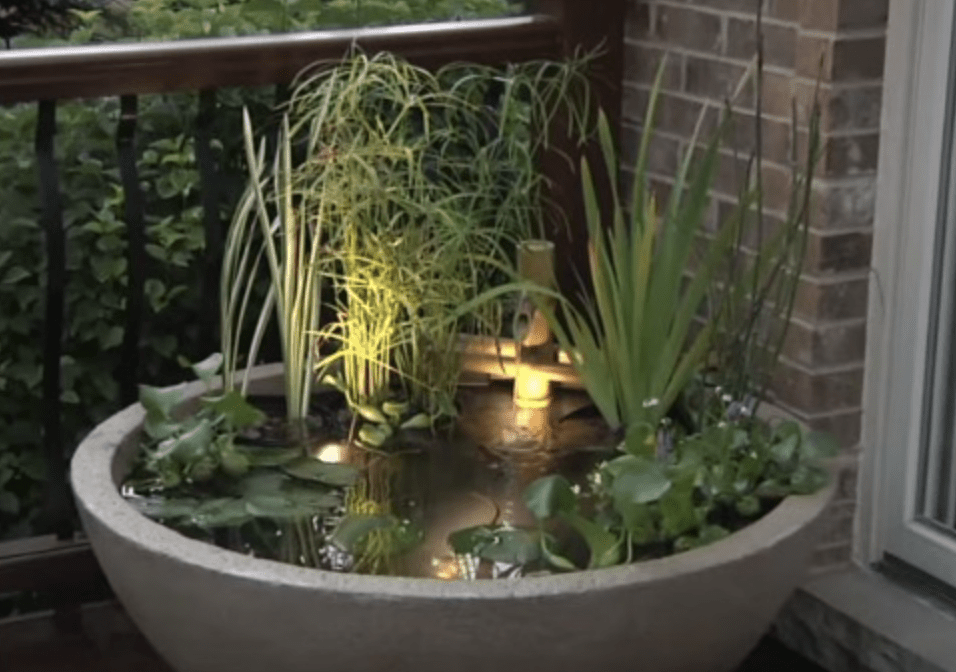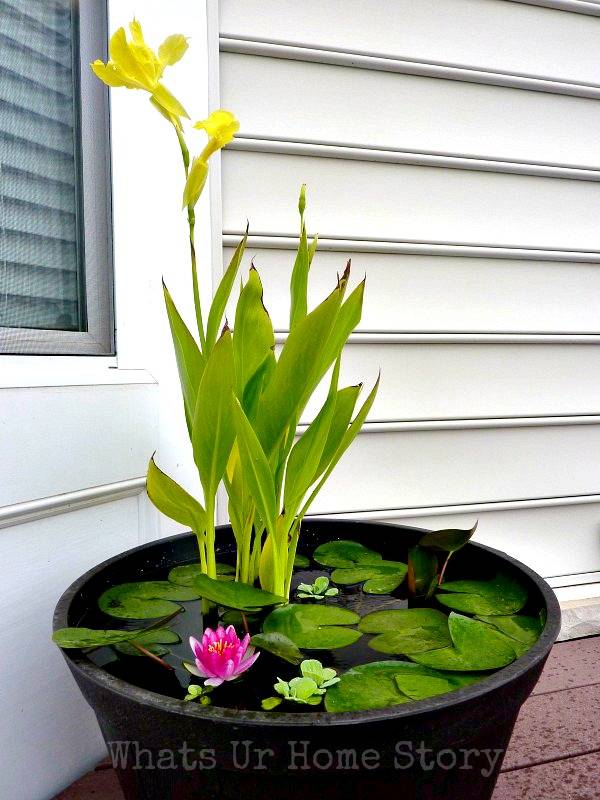 Add Color with Planters
If your backyard is dull and dreary, maybe you just need a little color. Planters are a great way to add a burst of color to any backyard or patio. You can make your own planter, buy inexpensive ones second hand or even repurpose an old tire into something new and beautiful.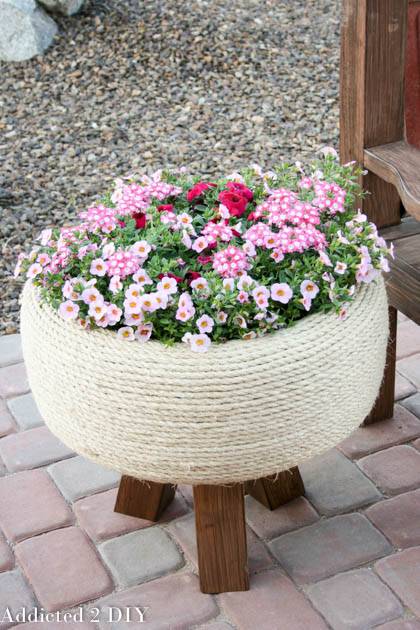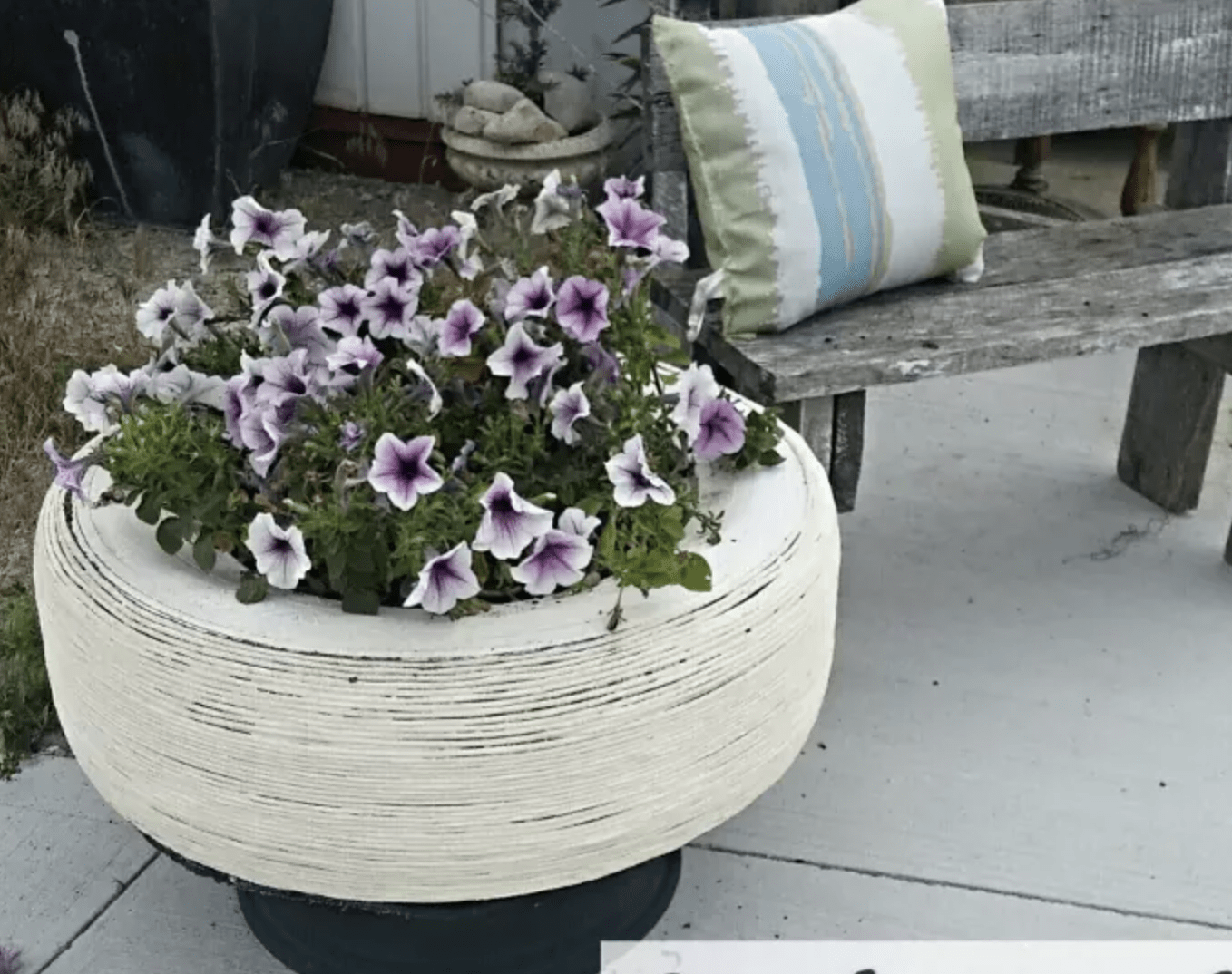 An old chandelier makes a unique and new planter for your backyard. Simply spray paint it in a color that matches your decor, add your small potted plants, and you're ready to go! Hang it up in the middle of your patio for an elevated burst of beauty.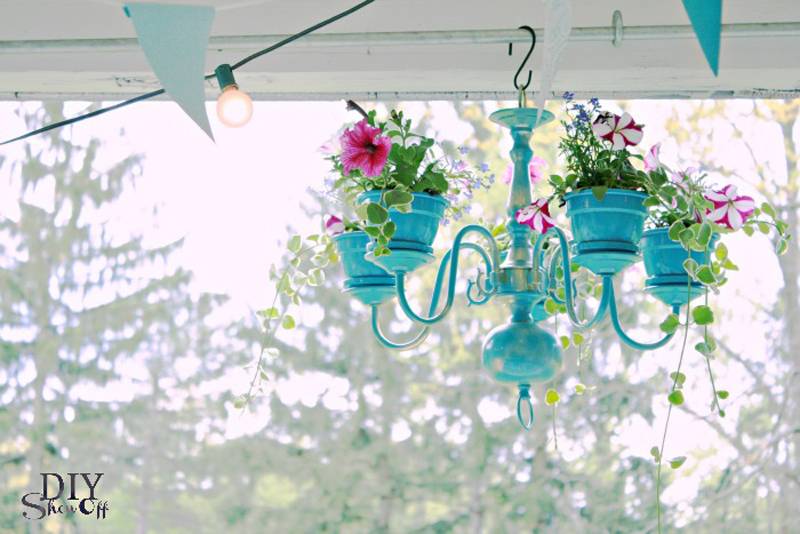 You could try your hand at this leaning ladder planter for something a little more substantial. This looks complicated, but it's quite an easy build, and this ladder can be leaned anywhere in the backyard where you need to add a pop of greenery and color.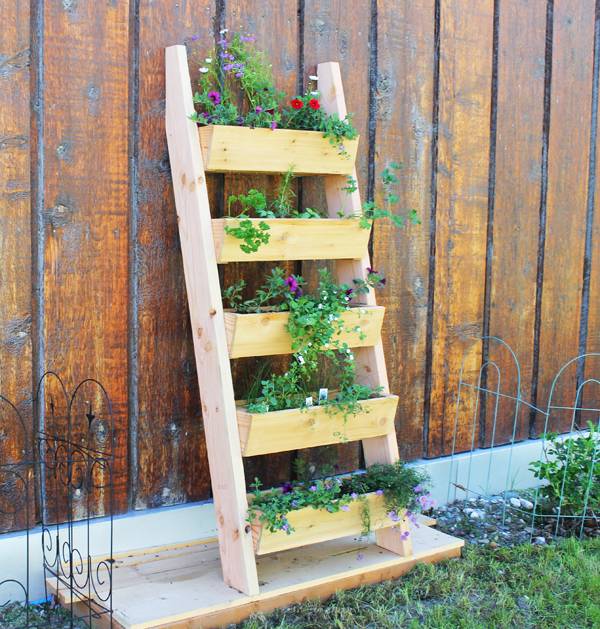 This easy centerpiece planter is made with two terracotta pots for those who don't want to operate power tools. On the DIY skill level scale, it's a beginner project, and most of the materials you can even get at the dollar store.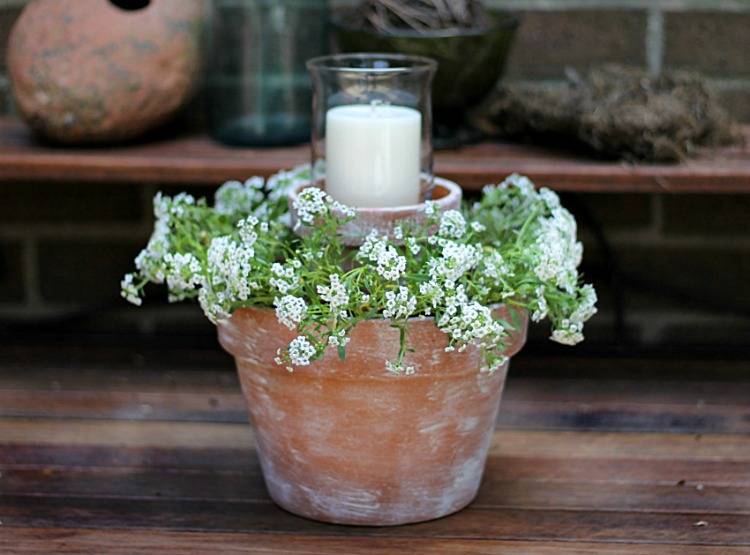 Vertical gardens are becoming increasingly popular and are a great way to add some depth and dimension to your backyard.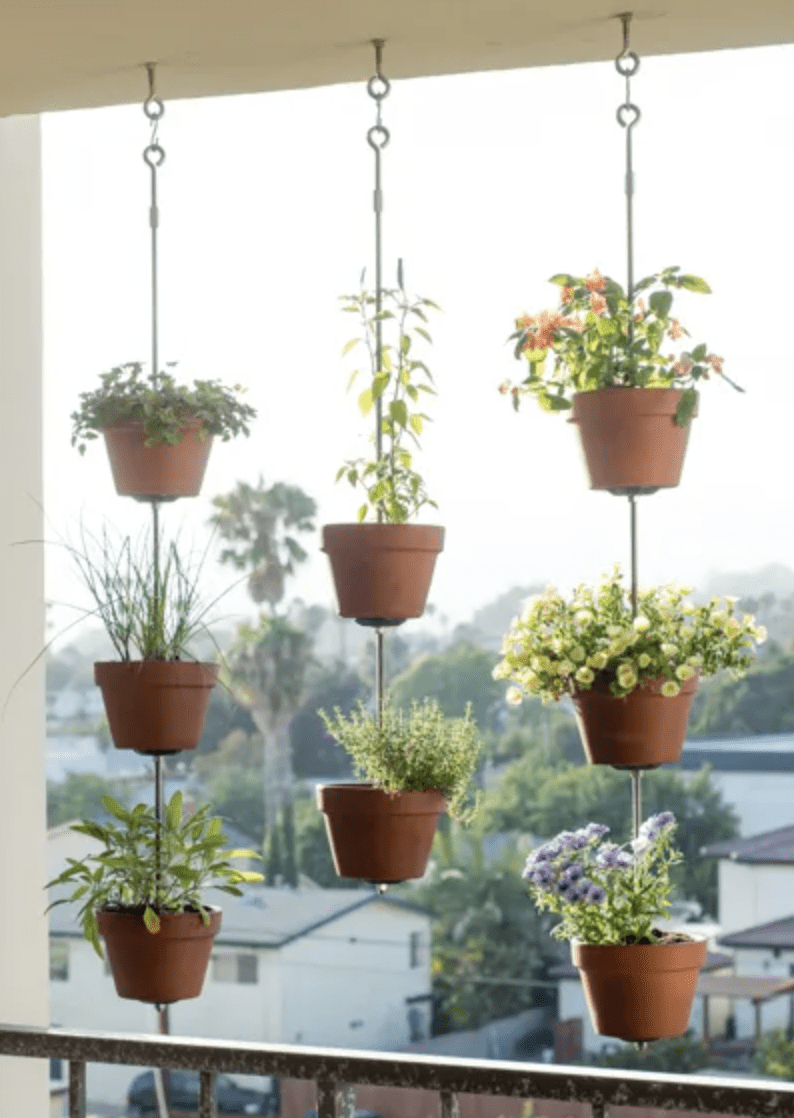 If you love a backyard with plenty of colors and lush plants, look to every corner to grow flowers, including your porch ceiling or fence. If you don't want to install hardware or make holes in the wall or ceiling, you can easily hang pots of colorful flowers on a fence using S hooks to add that extra pop of color.
Wood Pallet Furniture
Outdoor furniture is costly, but with a little DIY work, you can have a place to sit and unwind in your backyard. You can attach pallets of wood together, paint it in your favored color, and add some cushions to create a sectional, chairs, or even a coffee table.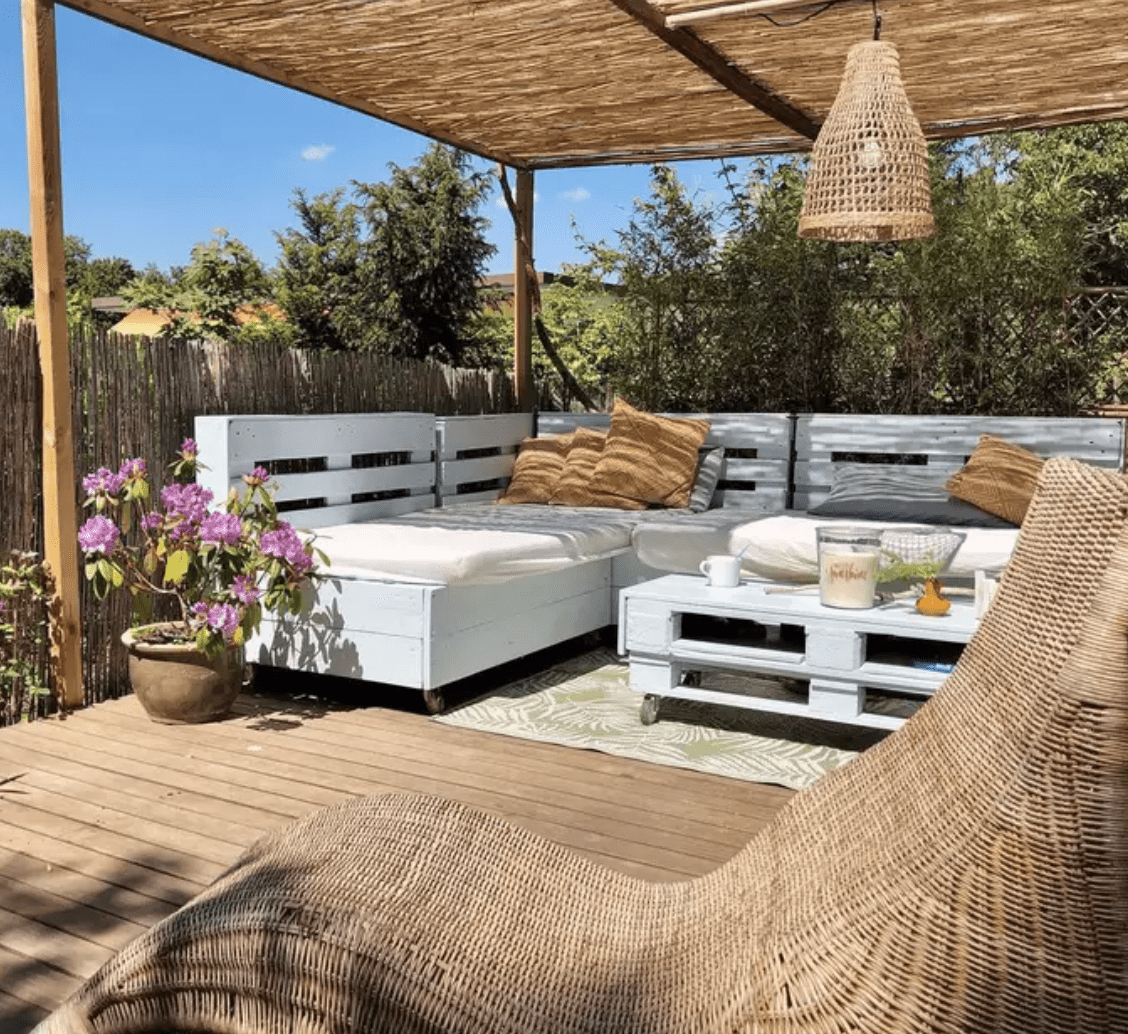 Quick and Easy Outdoor Kitchen
Add an easy outdoor kitchen without spending a ton of money. A moveable unit can be easily made for the backyard and you're not committing yourself to a massive, costly renovation.
Your outdoor kitchen prep area could always use more storage. Add a pallet of wood, paint it and add magnetic strips to hold knives and towel rods to hold other essential items.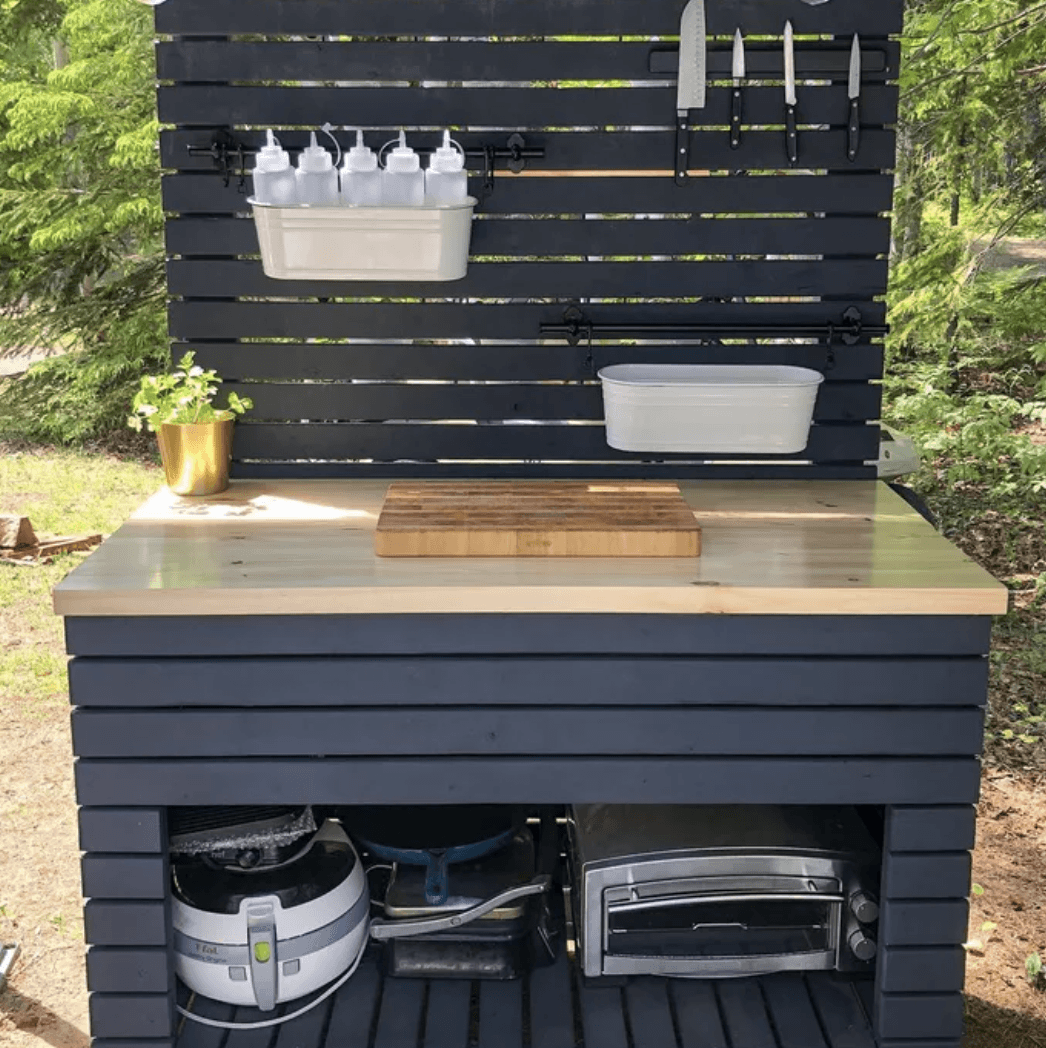 Related: Outdoor Kitchen Ideas for an Immersive Backyard Experience
Add a Wood Walkway
Every garden needs a pathway, but pavers can get pricey. Make a budget-friendly one instead using a combination of pavers, wood slabs, and gravel. You can create a pattern with it or add an impressive design to make it more visually appealing.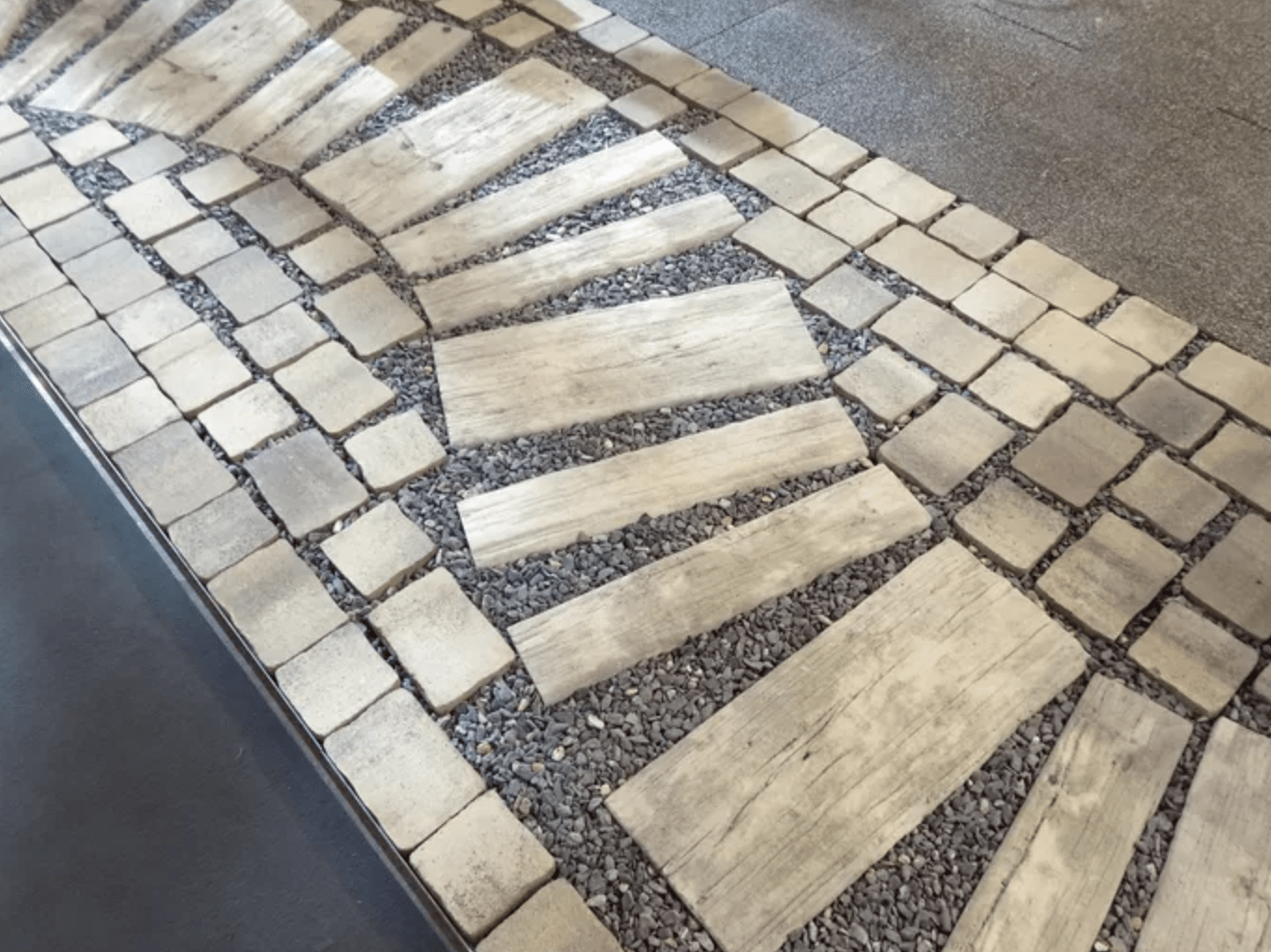 Lay Down a Rug
If your patio is just a concrete slab, you can effortlessly dress it up with the proper furnishings, like a colorful or patterned outdoor rug. You can find many outdoor rugs for a great deal in online stores, or you can thrift one from a secondhand store. We love the way this outdoor rug on this patio by Kirsten Diane pulls the whole space together.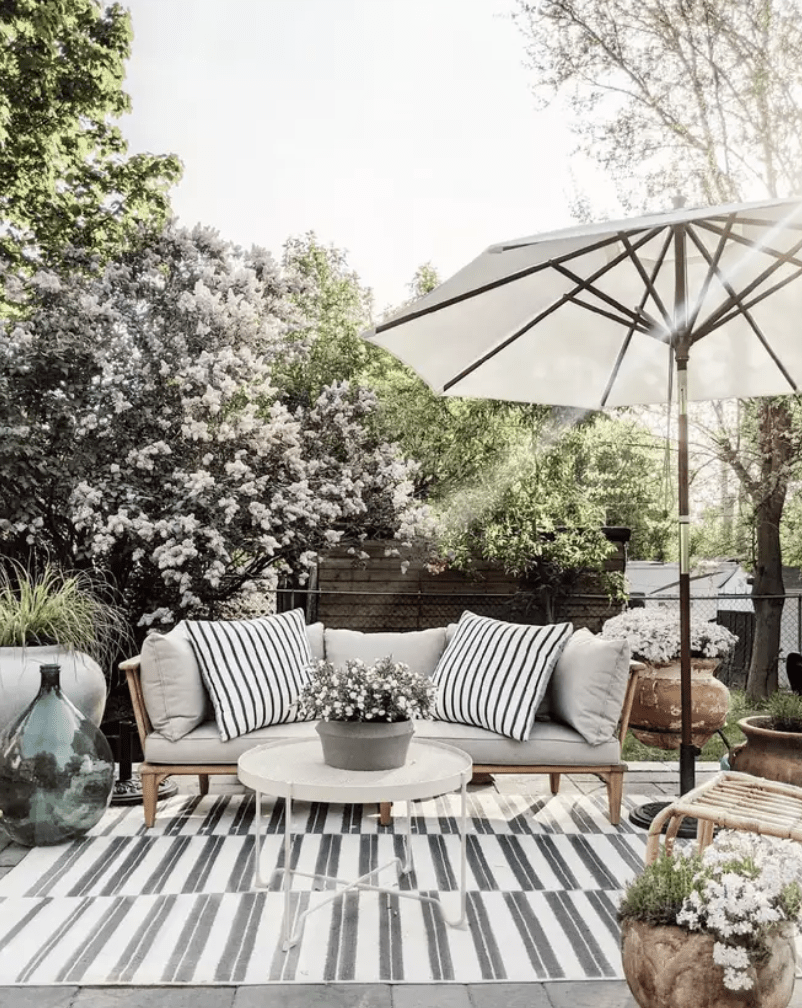 Add a Contrasting Rock Garden
You don't necessarily need a green thumb or live in a suitable climate to have a garden in your backyard. You can create a gorgeous, lush look with a rock garden. Use rocks in opposing colors to construct a visually-appealing design, and add a mixture of succulents and planters.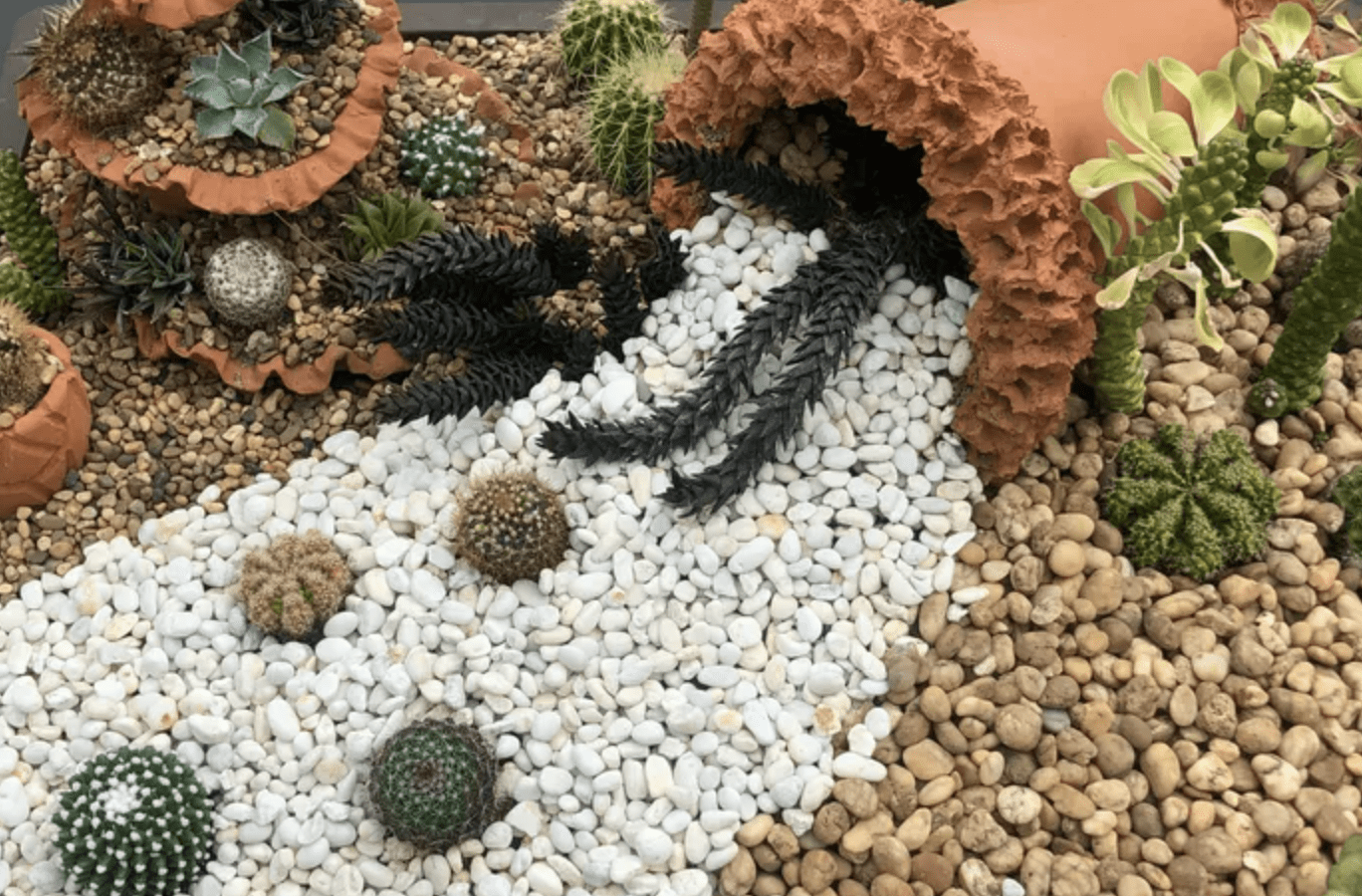 Dedicate An Area for a Cozy Nook
If you spend nearly all your time in your backyard, it's time to upgrade your relaxation experience by creating a cozy napping nook. Use a pallet of wood and add an old futon cushion and bedding for the ultimate place to take a snooze.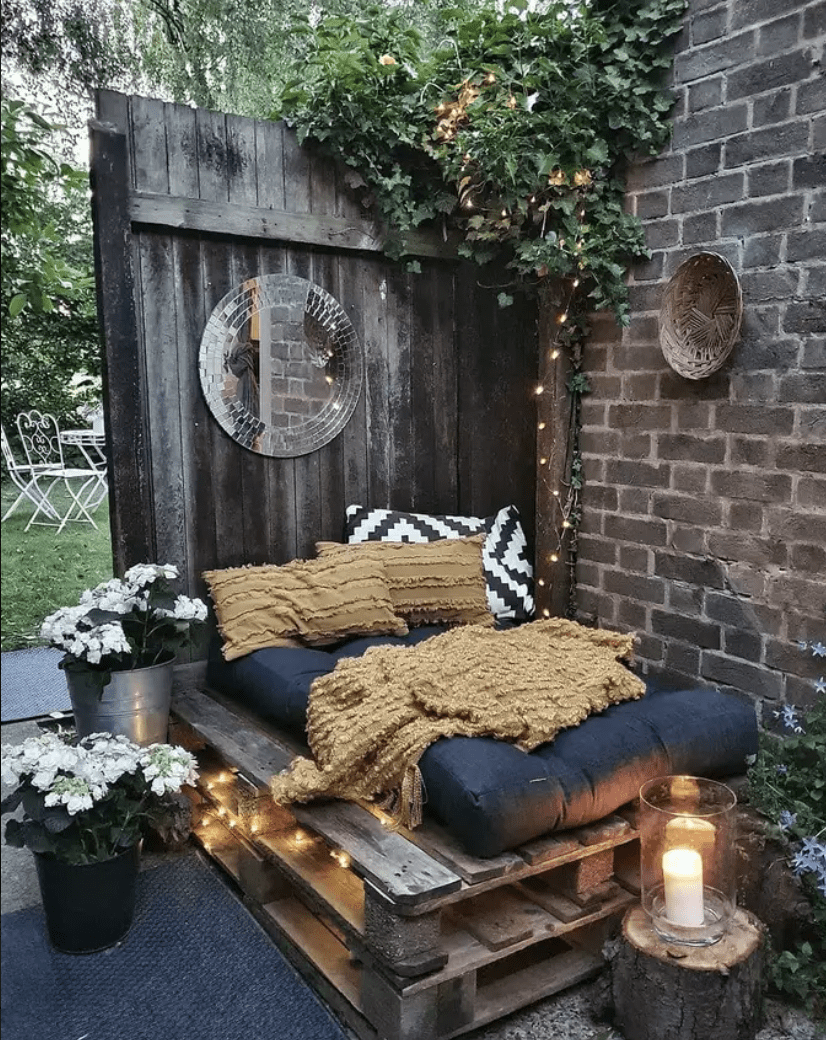 Bring the Indoors Out
Create a relaxing area in your backyard that resembles a living room. Add a coffee table, comfortable furniture, and even hang furnishings like mirrors to bring a welcoming feel. Simple furnishings like mirrors and candles will make your outdoor space feel like an extension of your home.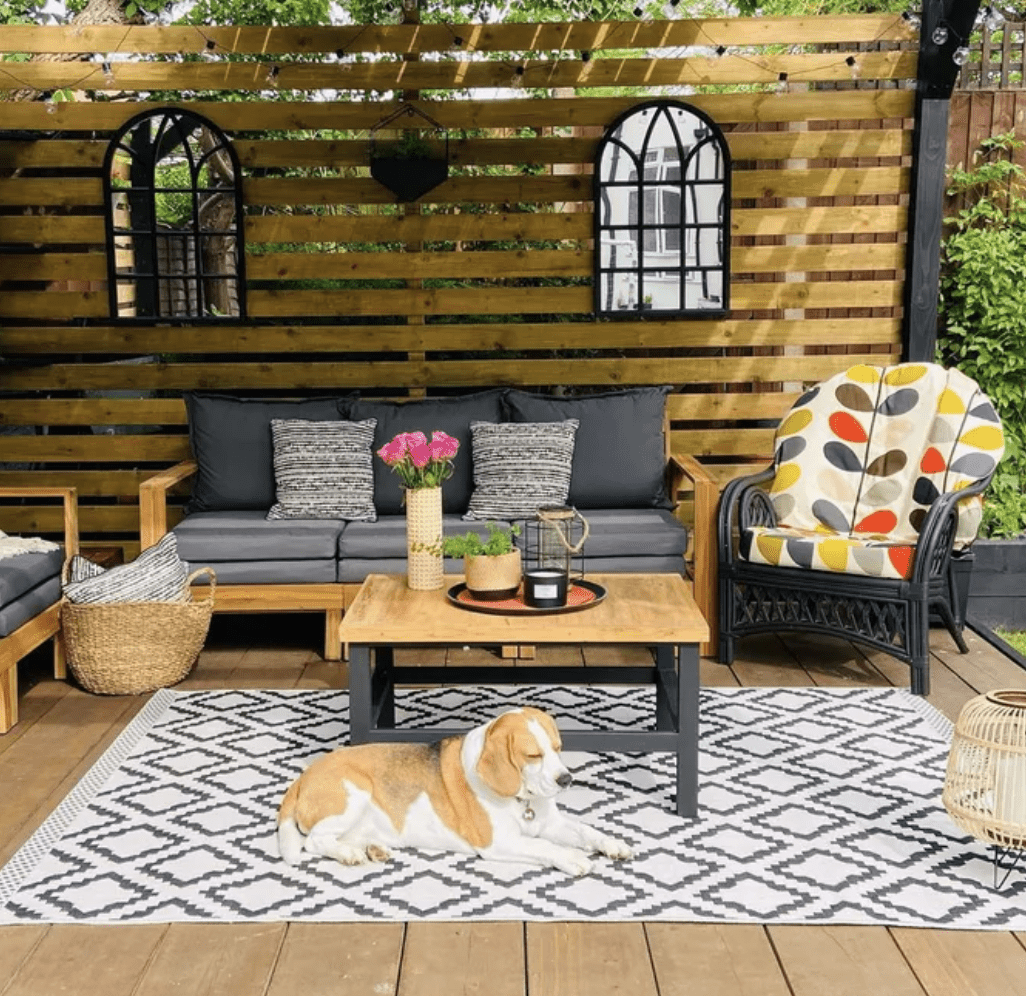 Relax in a Hammock
You don't have to go far to enjoy a quiet refuge; you can create your own little getaway right in your backyard. Set up a hammock, and add pillows, string lighting in trees, blankets, and even a plate or basket for food for when you get hungry to create a spot you can quickly sneak away to enjoy some quiet time.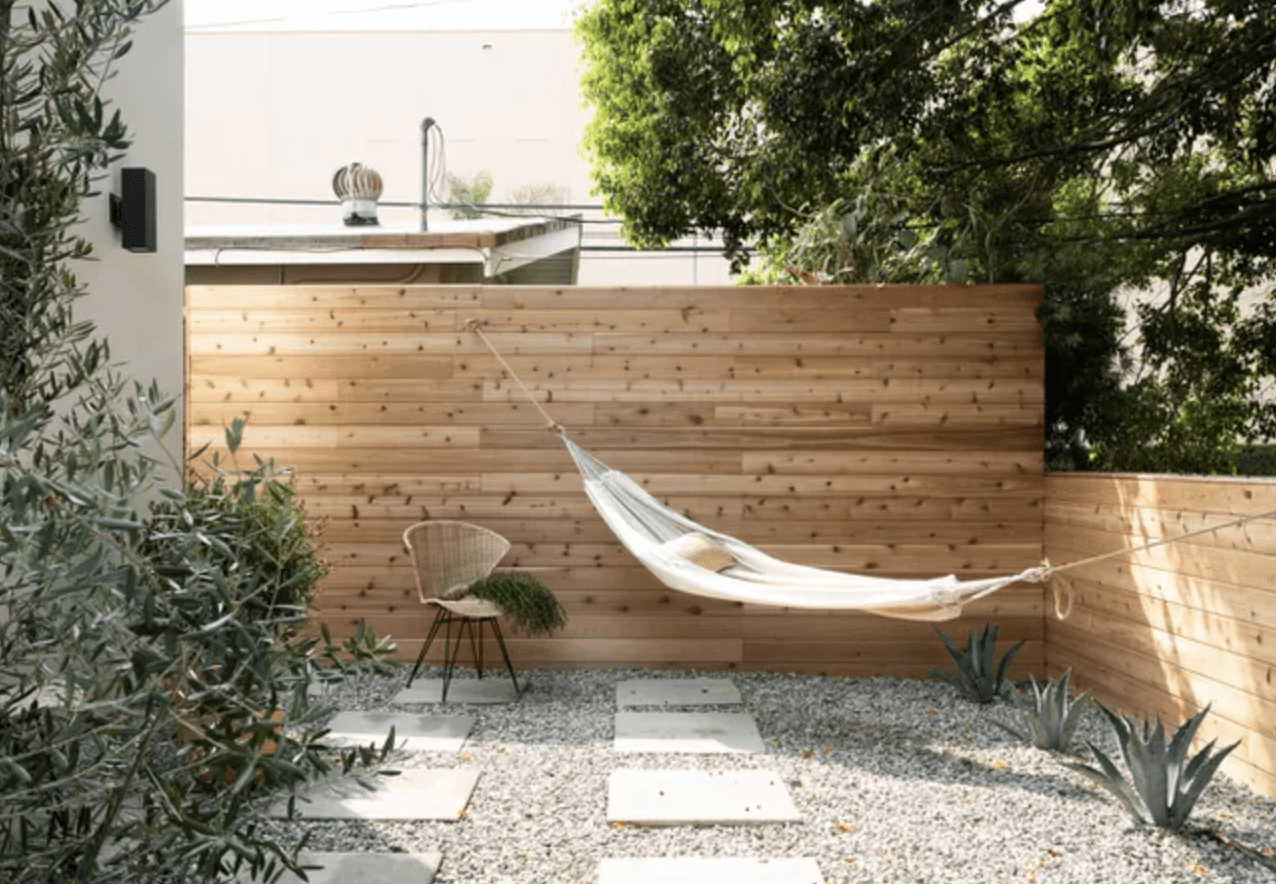 Quick and Easy Backyard Ideas To Make Your Space Look More Expensive:
 Mow Your LawnA free and quick way to increase your curb appeal is simply keeping your lawn mowed, shrubs trimmed, and yard clear of leaves. A little elbow grease goes a long way to creating the look you want.
Pick A Decor StyleBut make sure you stick with it! While no one doubts that your modern-boho-industrial-Tuscany-chic look is going to take the world by storm, a mix of too many competing styles can be confusing. Creating a cohesive decor theme and color scheme allows the eye to relax and enjoy the overall beauty of the scene.
Coordinate FurnitureA coordinated set creates a cohesive and uniform look, like adhering to a single theme. Everything needn't be the same material or shape, but pieces should all work together. A wood table can have metal chairs, but the chairs should all have a unifying element.
Create Distinct AreasLuxury patios have clearly defined spaces for every activity. While you may not have these luxuries, you can make your space feel fancy by grouping furniture in a way that makes the purpose clear. Anchor dining and entertaining spaces with rugs or landscaping details, like stones or flowers, create enough room between them for an easy flow of traffic.
Add LightingThink outside the box with lighting. Globe string lighting looks elegant and festive above an outdoor dining table, but the small details set your patio or outdoor space apart. LED lighting that borders landscaping edges or stair treads focuses attention on those features and increases safety. Spotlights on trees and shrubs bring a manicured look to the yard that you've worked so hard to tend.
 Make a Grand EntranceYour patio entrance is the door to your luxury oasis, so it should reflect that. Consider adding plants or a small vignette to frame your door and set the tone for the rest of the backyard. Changing out your old hardware—door knobs, kick plates —can make a huge difference. Even painting your door to match your outdoor patio can unify the space and make it seem custom-made.
Add DecorAn easy way to decorate your patio is to visualize your outdoor space as an extension of your indoor space. Adding rugs, comfy chairs, coffee tables, and pillows boost the look while bringing the comfort of the outdoor living or dining room.
Maintain and RepairCracked and loose stonework not only makes outdoor spaces look rundown but are actual safety hazards. Avoid accidents by replacing or repairing any loose stones or cement. If your backyard has a wood patio, pressure wash it to remove any dirt or debris that may have collected over the winter. If the wood has seen better days, consider refinishing or painting to give it a quick update.If masonry work isn't in your budget quite yet, consider cement stains and DIY brick and stone stencils. There are some lovely options on the market to achieve a high-end, faux look.
Create A Focal PointIn the lack of an in-ground pool, small water features like bird baths, ponds, or fountains create a soothing ambiance while elevating your space. Fire pits are a gorgeous and budget-friendly way to extend your patio into the winter months—think of all the marshmallow roasting!
Frequently Asked Questions
FAQ
How do I make my yard pop?
Add color if you want to make your yard pop and stand out! You can do this through planters, bright-colored patio accessories, and even painting old accessories and brightening them up with new colors.
What is the cheapest type of rock for landscaping?
The cheapest landscaping rock is pea gravel, which is why many homeowners opt to use this gravel to make designated patio spaces.
What is the cheapest way to cover dirt in backyard?
The best cheap ways to cover dirt in your backyard are with shingles, organic mulch, recycled bricks, gravel, wood, or composite decks, building a water pond, using natural grass, or using artificial grass.
Is rock better than mulch?
Rocks are better at weed prevention than mulch and are also lower maintenance. Stones can also add to the aesthetics of a property. However, rock cover is not good for gardens that receive a lot of sun because they retain more heat than mulch. Ultimately, it all comes down to personal preference.
Is rock or rubber mulch cheaper?
Rocks can be sourced anywhere at any time and typically cost less than rubber mulch. Both stay in place and neither product needs to be spread heavily across garden soil or landscaping areas to do their jobs, so either option tends to be a low-maintenance and low cost alternative to organic mulching materials.
For ideas and inspiration on furniture items for your outdoor makeover, check out Denzilla's Mobel Oak collection, or the subtle grey Signature collection, two of many fine solid hand crafted hardwood ranges which are offered!