Life can be tiresome and just downright exhausting at times, so at the end of the hard day, it's nice to go somewhere and relax, and that place should be your patio! When you want to relax and kick back, it's nice to have a pretty and serene patio. To make the most out of your space, you want to make sure that your patio decor is up to par.
To get you inspired and ready to turn your patio into the space of your dreams, here are some inspired ideas that will help you move your patio from bland and boring to charming and relaxing!
Add A Bench
Go simple yet stunning with an eye-popping colored bench. Placing a bench on your patio offers a place for people to sit when they are just popping by for a few minutes or a place for you to sit and relax yourself.
If you're going to add a bench to your patio make sure you use it as an excuse to add some color to your patio.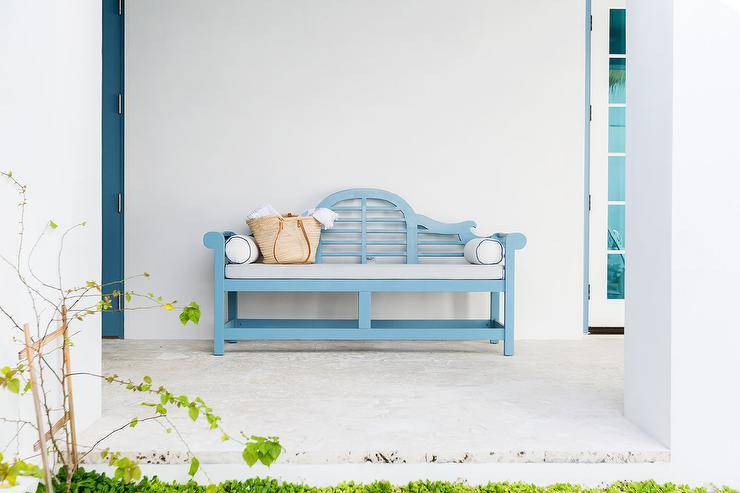 An old church pew makes a charming addition to your patio. You can paint it to match and suit your style or leave it as is for some old rustic charm.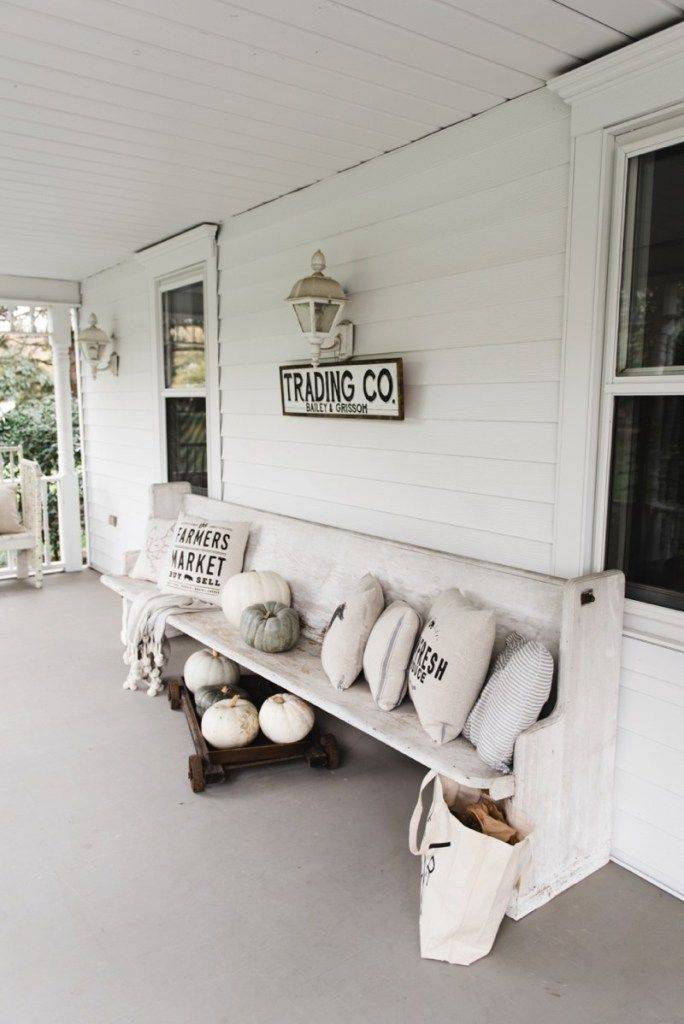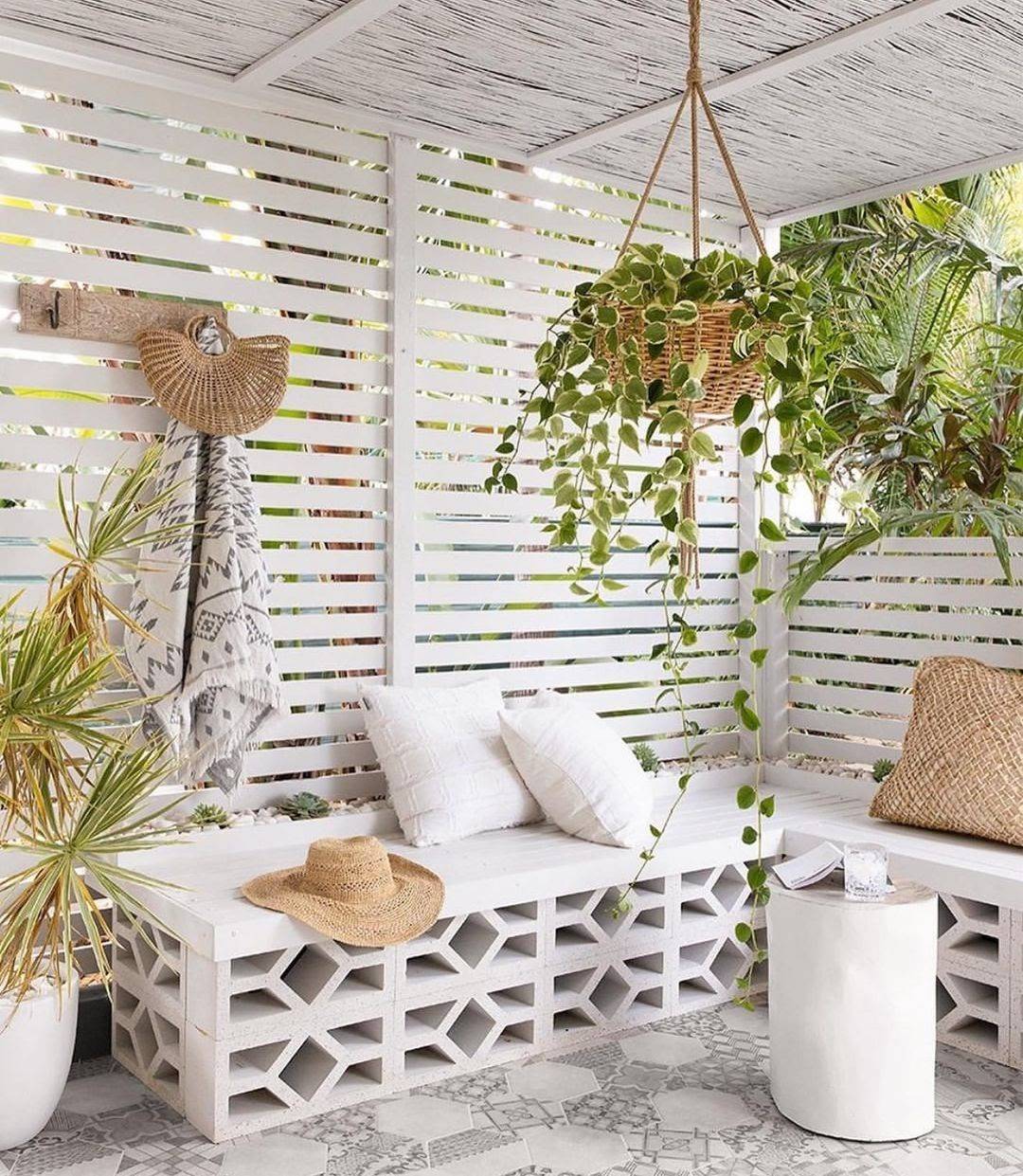 Well Placed Fire Tables
Fire tables are a perfect addition to any patio — they provide a gorgeous focal point and will provide your patio with warmth on those cooler summer nights.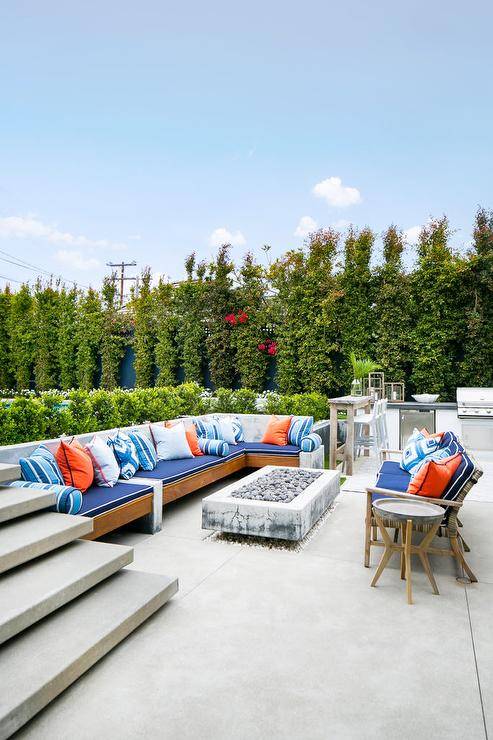 Photo Credit: AGK Design Studio
Table top fire pits come in a wide variety of styles and shapes so you are sure to find one that will complement your patio nicely.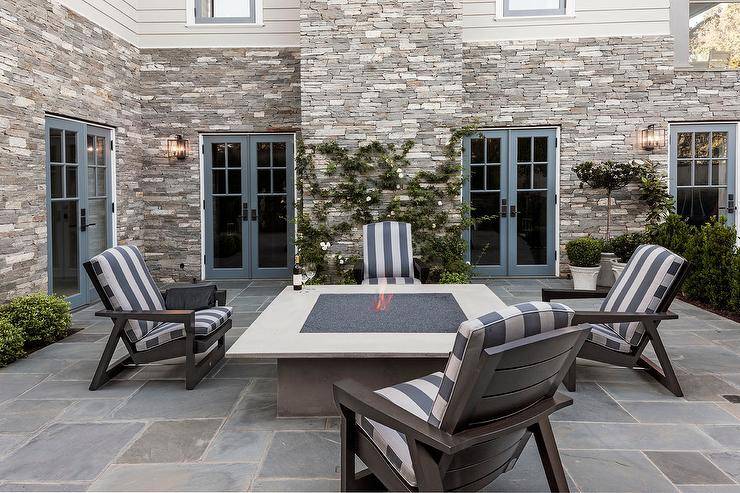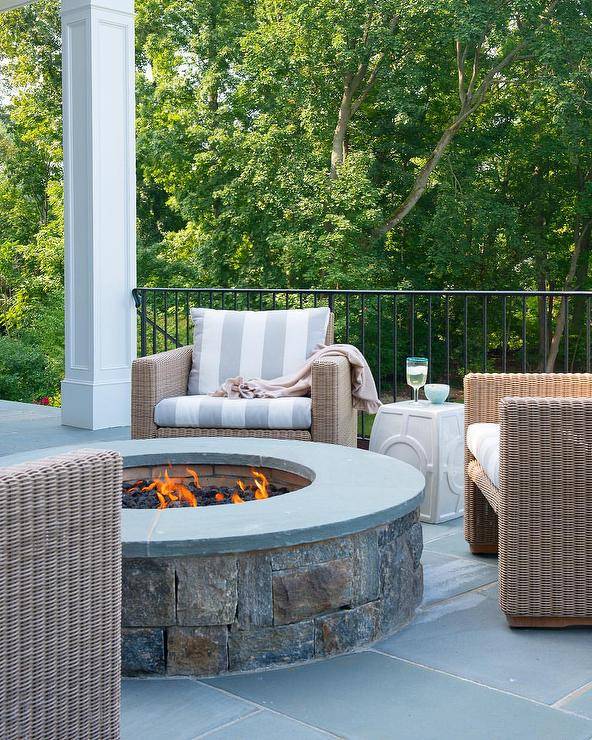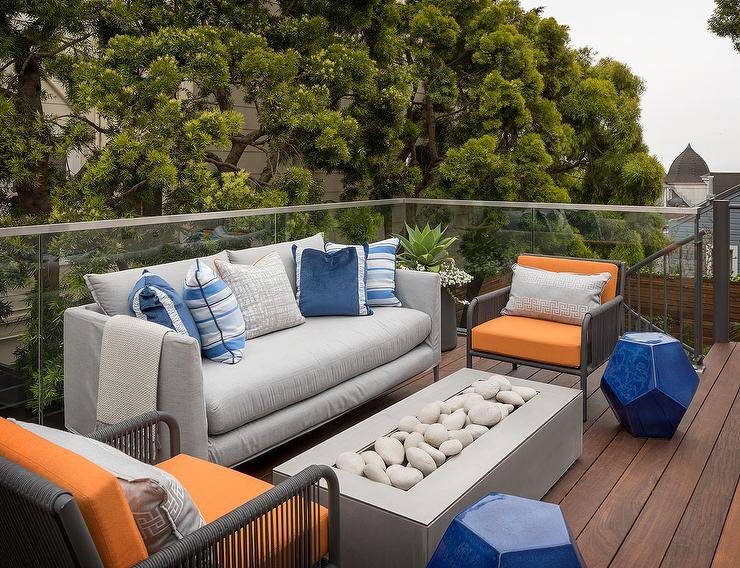 Privacy and Style
Not all patios are hidden, so if you need to add some privacy, make sure you use it as an opportunity to add some style and beauty as well. A teak wooden wall with a matching garden planter adds a unique modern touch to this patio.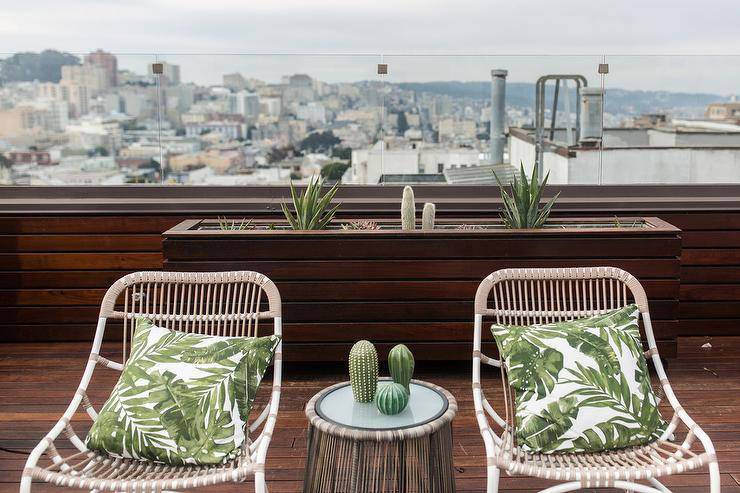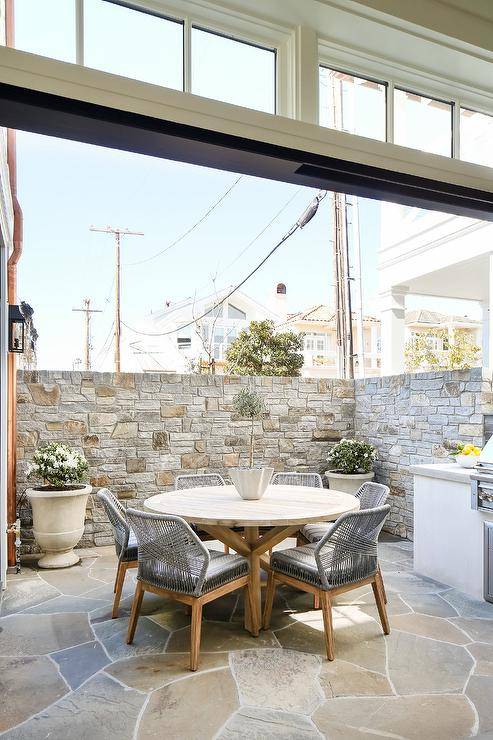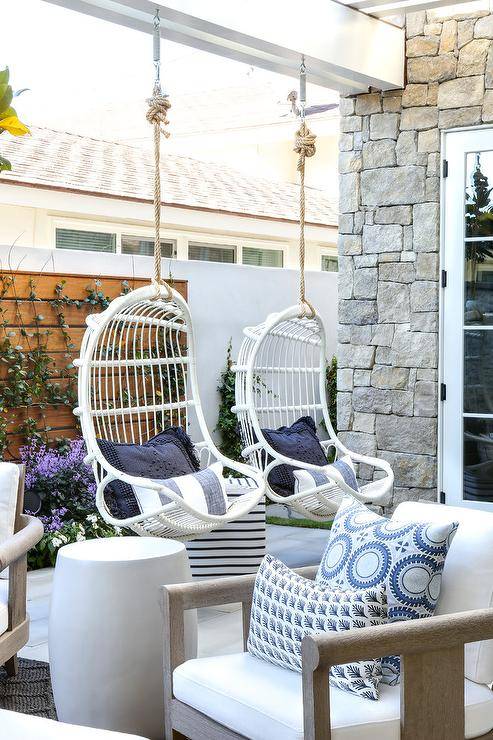 Light It Up
Add some string lights to your patio for a stunning night light display that will make you want to hang out all summer at night in your backyard oasis. If you love entertaining, lighting up your patio with string lights is a great way to ensure your guests feel welcome.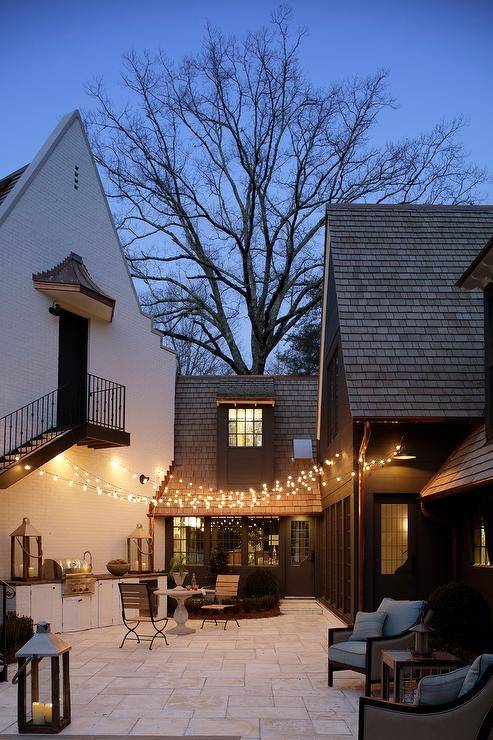 String lights are available in several different styles and varieties, from faerie lights to globe bulbs. You can also light up your patio table with lit lanterns, too.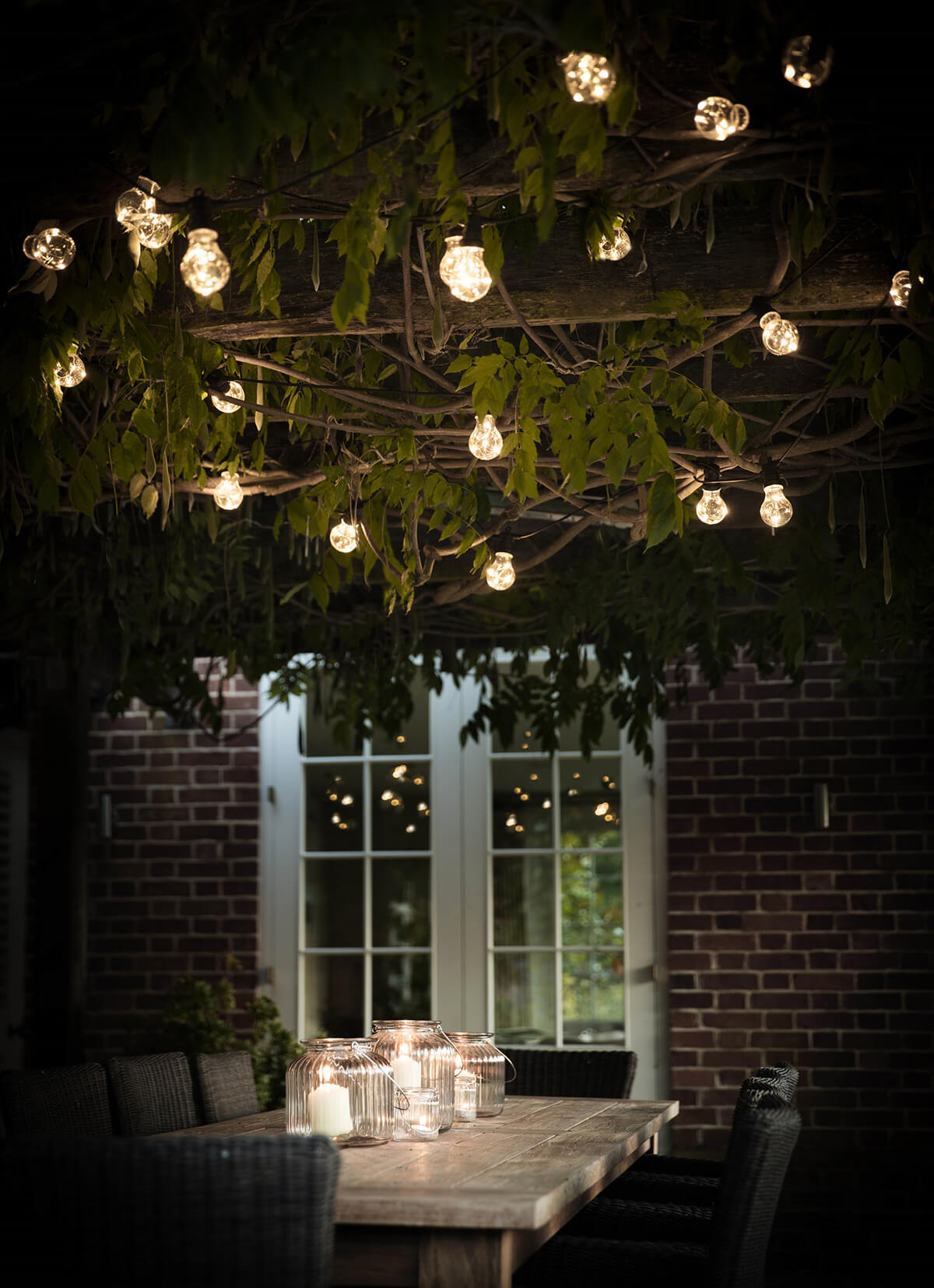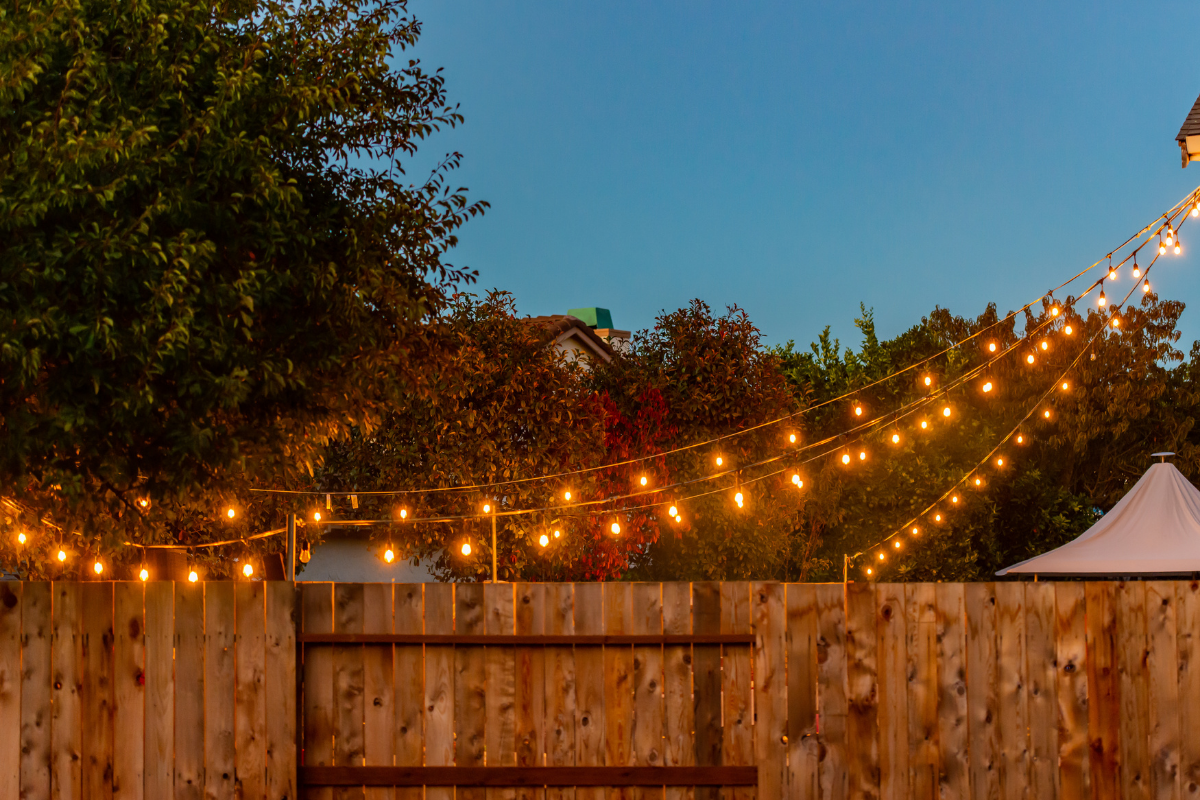 Bring Indoor Lighting Out
Who says which lights are interior and which ones are exterior? If your porch is covered, don't think that you're stuck with just exterior lighting solutions. You can hang a stunning interior light on your outdoor patio that will make your outdoor space feel cozy and inviting.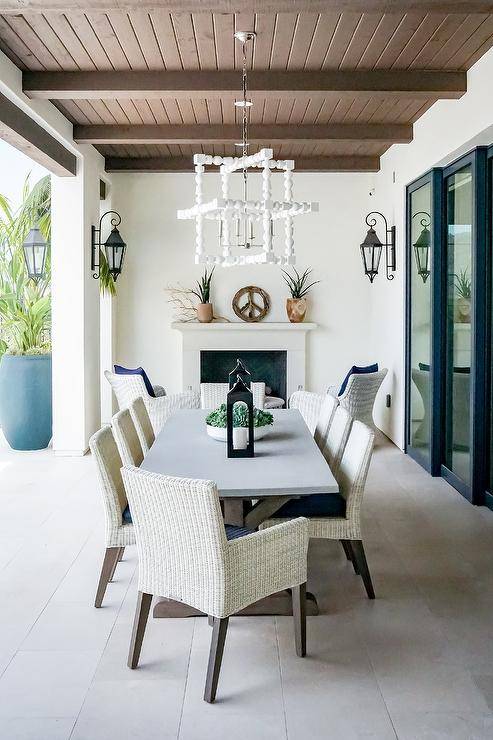 By using an interior light under your covered patio, you can also feel free to get creative and add a unique touch to your patio.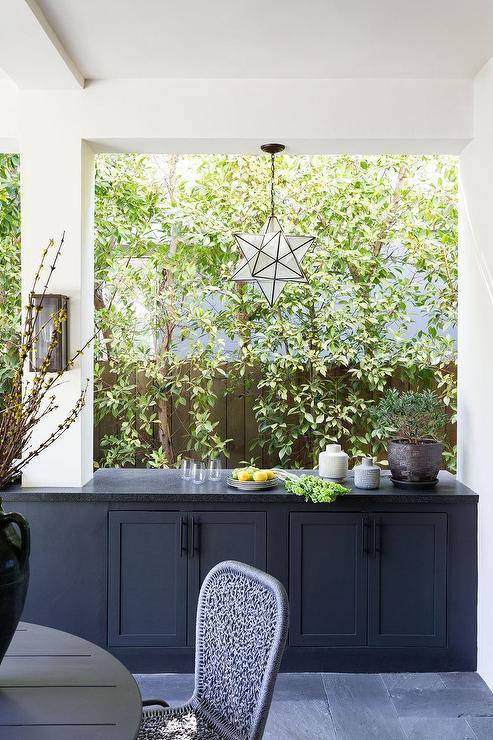 Add an Outdoor Kitchen
If you have the space and the budget, adding an outdoor kitchen to your patio will make summer entertaining so easy and stress-free. Enjoy time with your guests without having to run in and out of the kitchen all day. Plus, these outdoor kitchens look so gorgeous!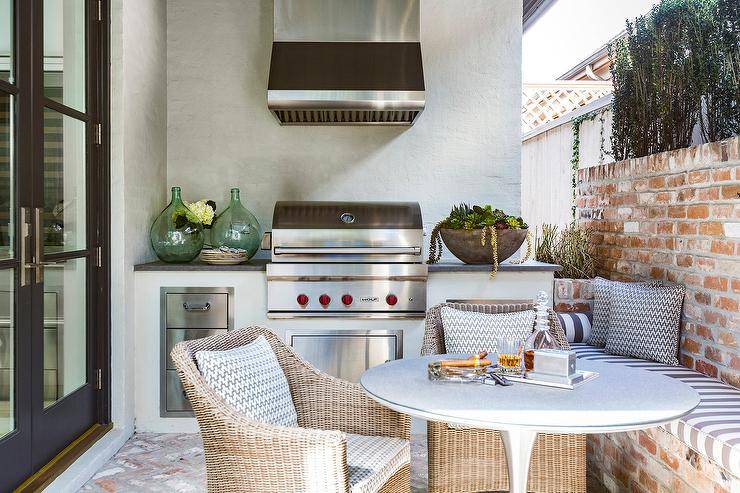 Find Your Style
When designing your patio, think about your surroundings. Are you near the lake? Near the mountains? In an urban jungle? This will help you lay out the design for your patio, and by sticking with the theme of your surroundings, your patio is sure to impress.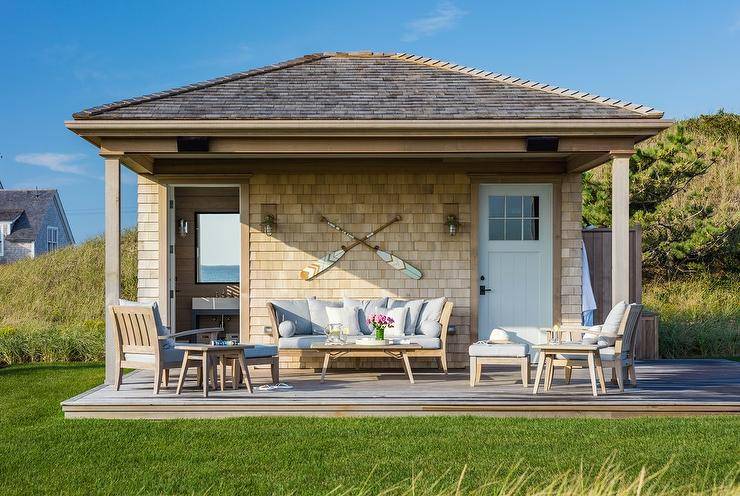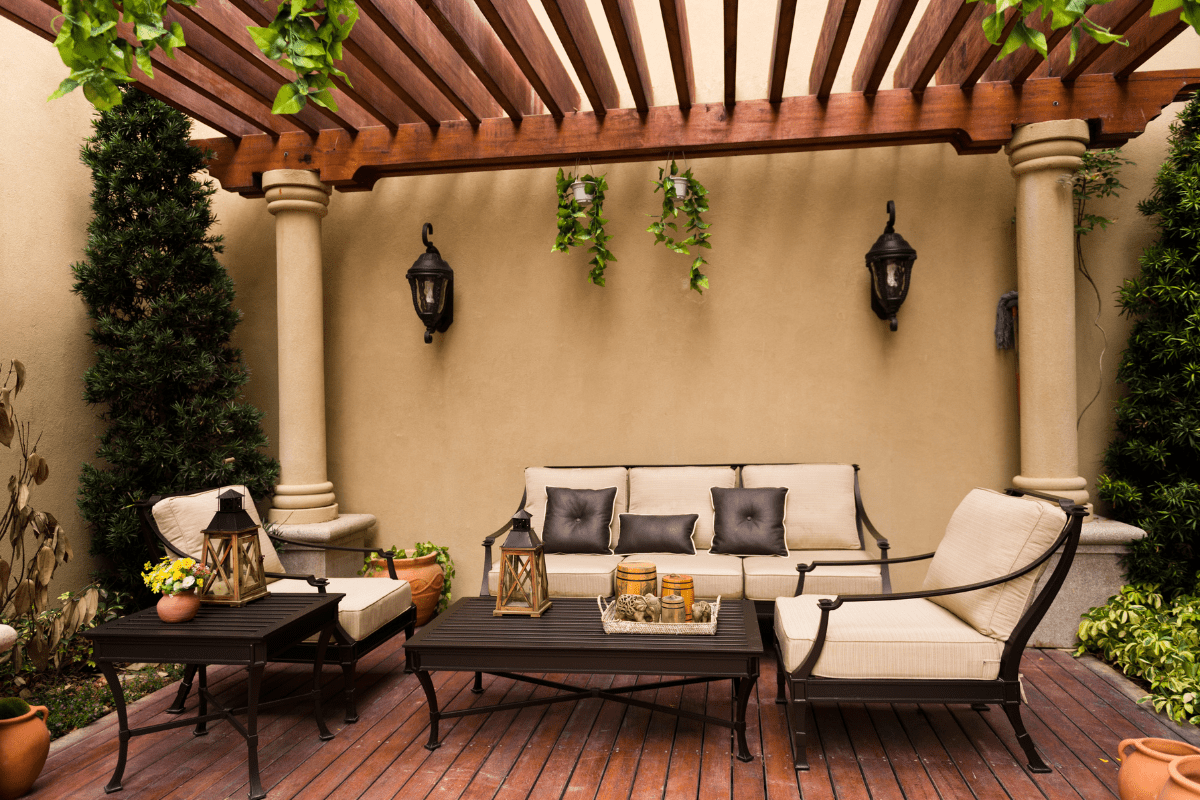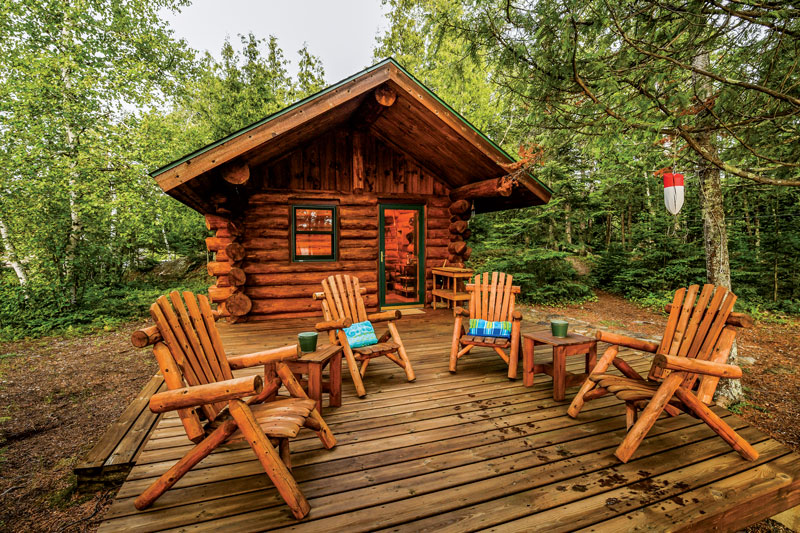 Go With Hanging Items
Take your patio decor to new heights by going with items that hang. Hanging chairs, decorative orbs and outdoor chandeliers are all elevated items that can add character and charm to an outdoor patio.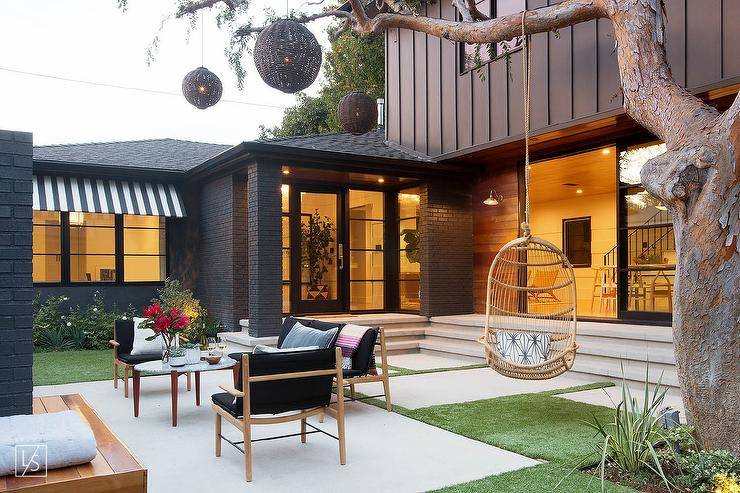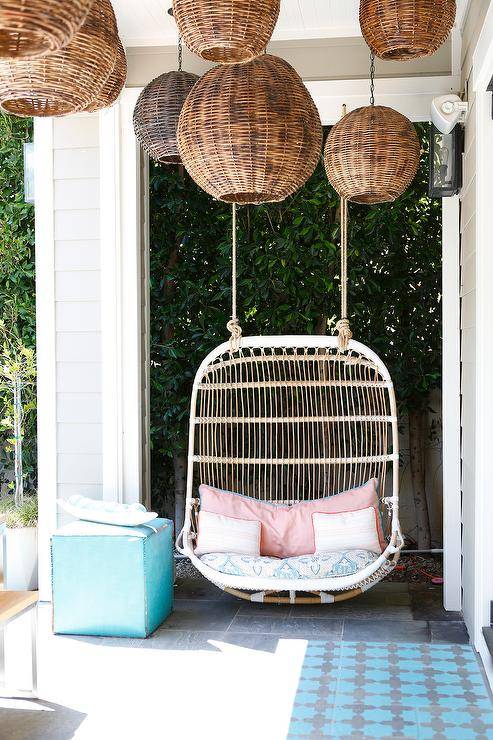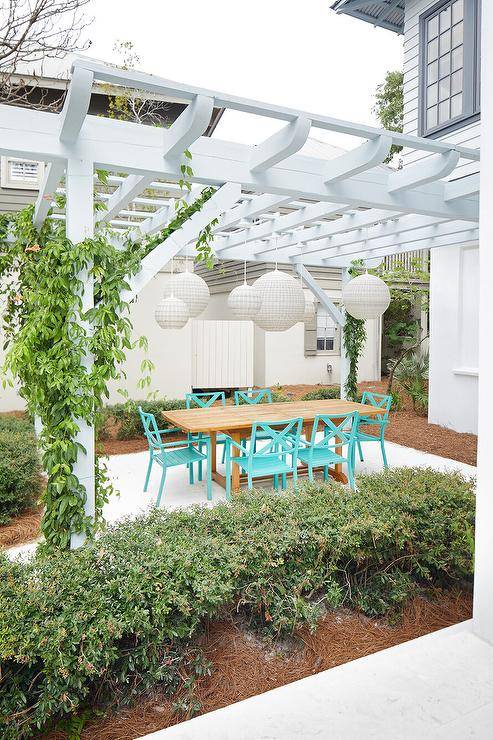 Covert a Shed or Pool House
Covert a shed or pool house to a secondary indoor living space to double your patio and add more places to hang out. By converting a shed you're not using, you can open up the outdoor area around the shed for more patio space.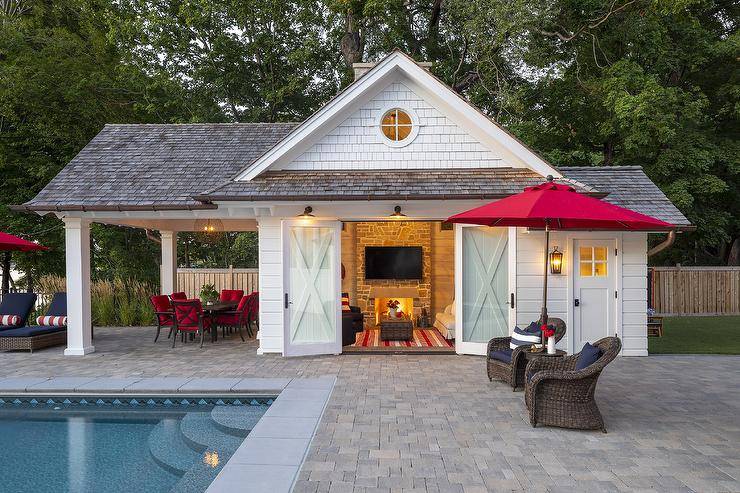 Double Your Coffee Tables
Why have one when you can have two? Design Trends now are showcasing two smaller coffee tables rather than one large one and we are loving this style, so why not use it on the patio, too? This is not to say that you can't go with an oversized coffee table, though. That look is still classic and trendy, too.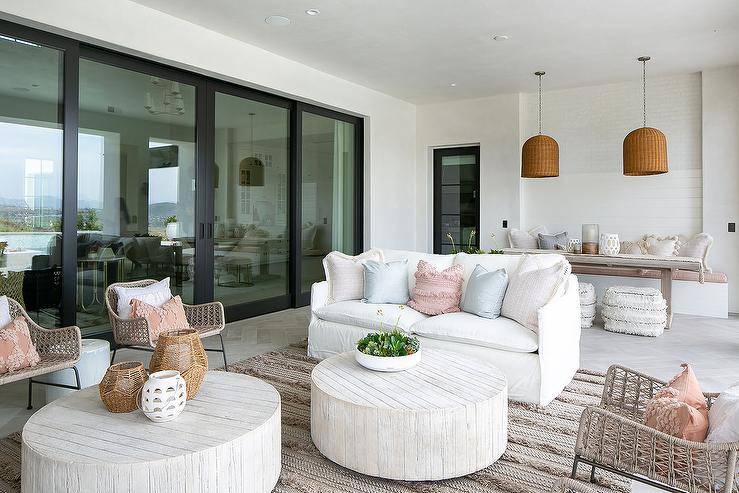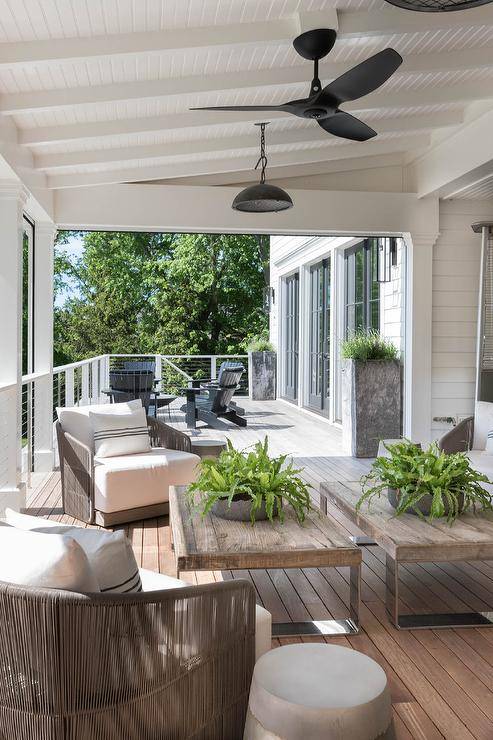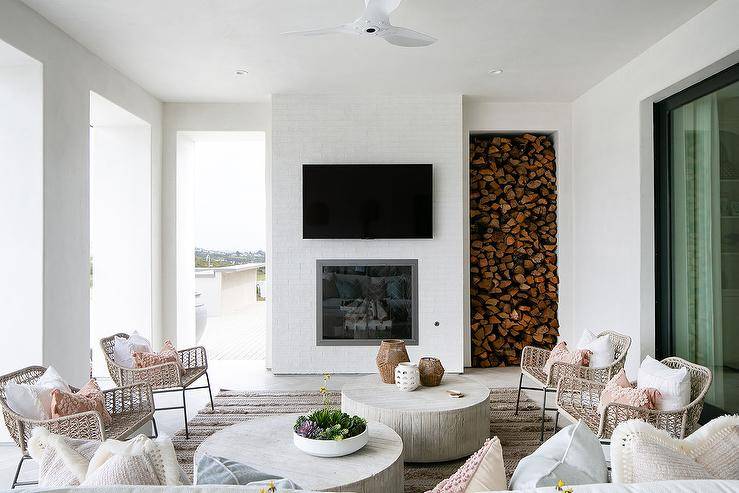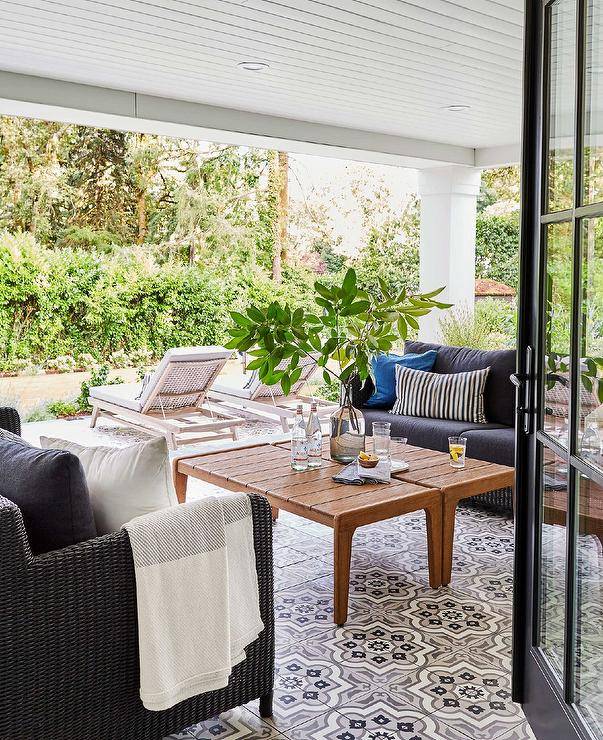 Put Down A Rug
Throw down an outdoor rug to cozy up your patio and make it feel more inviting. Outdoor rugs have come a long way in the last few years and now you can even get rugs that look and feel like indoor rugs but will hold up to the outdoors.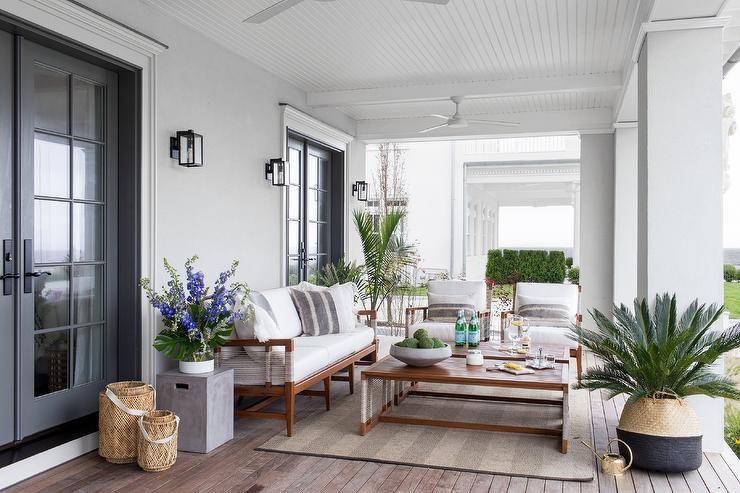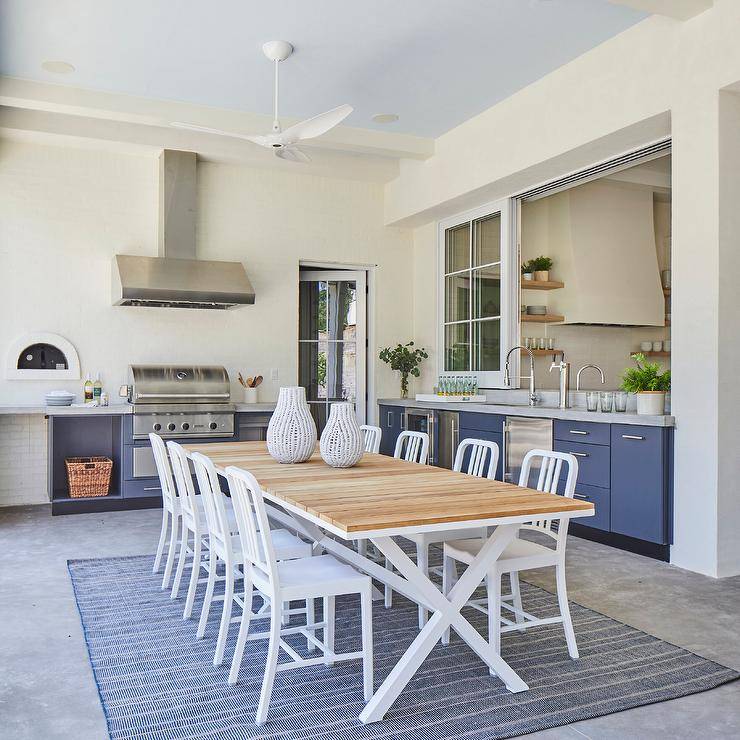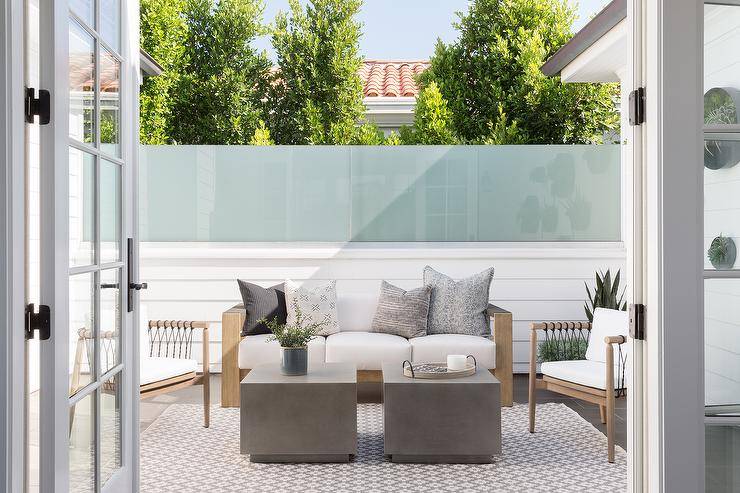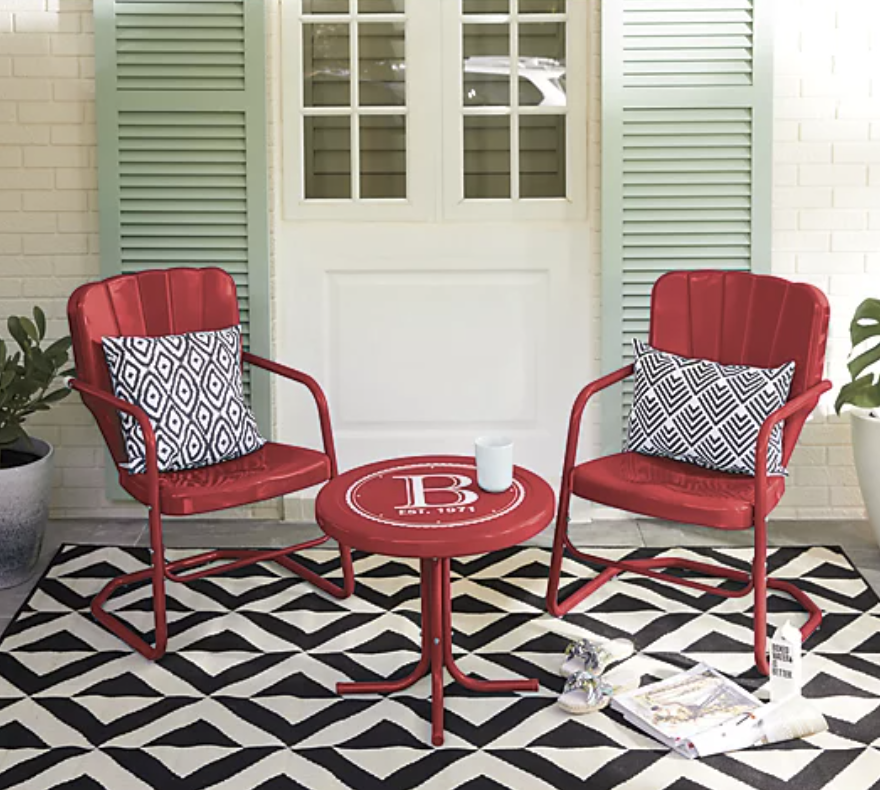 Make an Outdoor Dining Space
Like we mentioned earlier about making an outdoor kitchen, you could also make an outdoor dining space. There's no need to eat indoors if you have a beautiful outdoor dining space on your patio.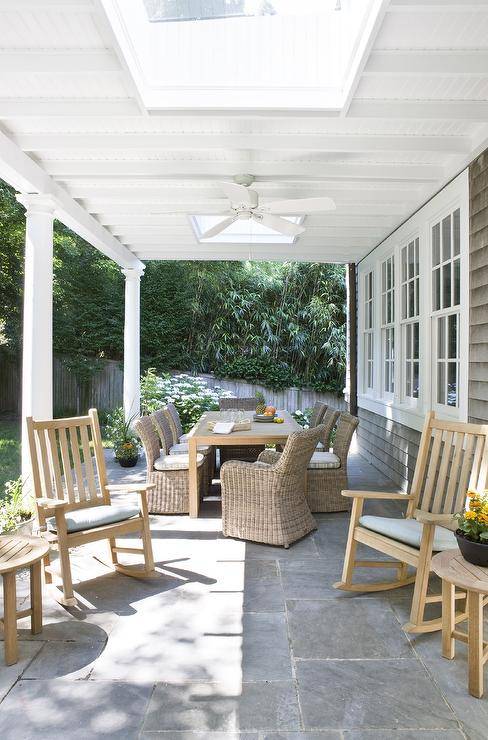 You don't have to have a large patio; just choose a smaller dining table to suit your space.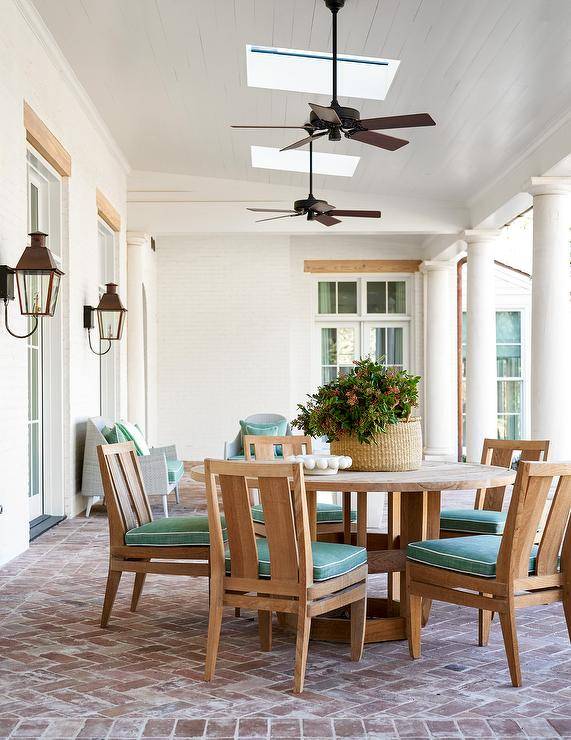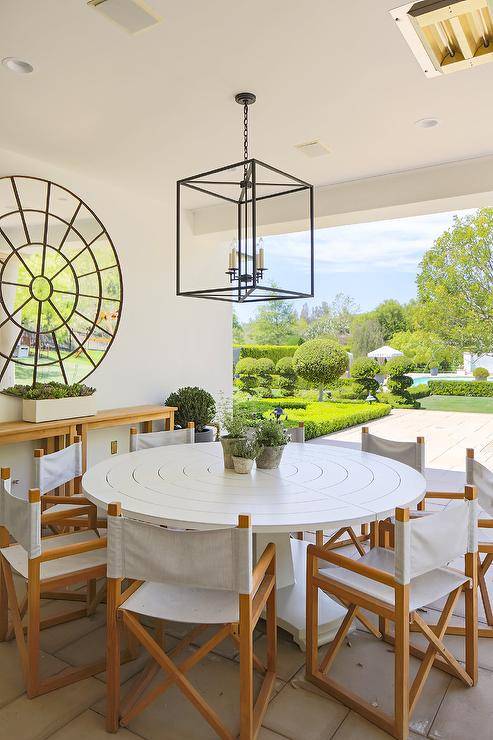 You can tailor your outdoor dining space to suit your style and home. Everything from modern to farmhouse to coastal. Keep your outdoor dining space as an extension of your style inside.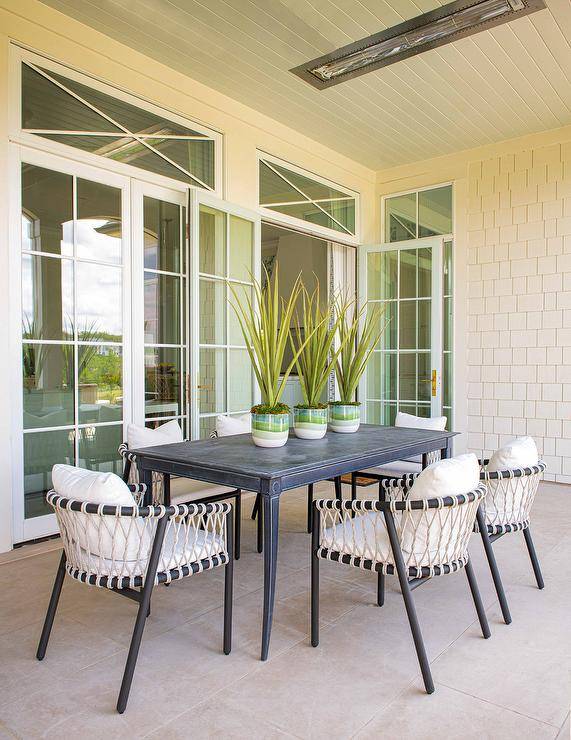 Porch Swings
Add a porch swing to your patio for a calm, cozy relaxing space. Porch swings are available not just in a bench style, you can actually get a porch swing that's laid out more like a day bed.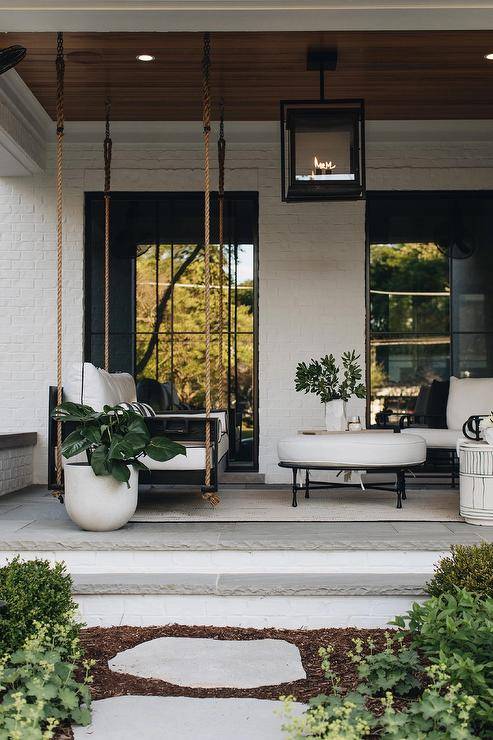 Imagine relaxing the day away on your patio, reading, and napping in a swinging porch bed. Now that's the life!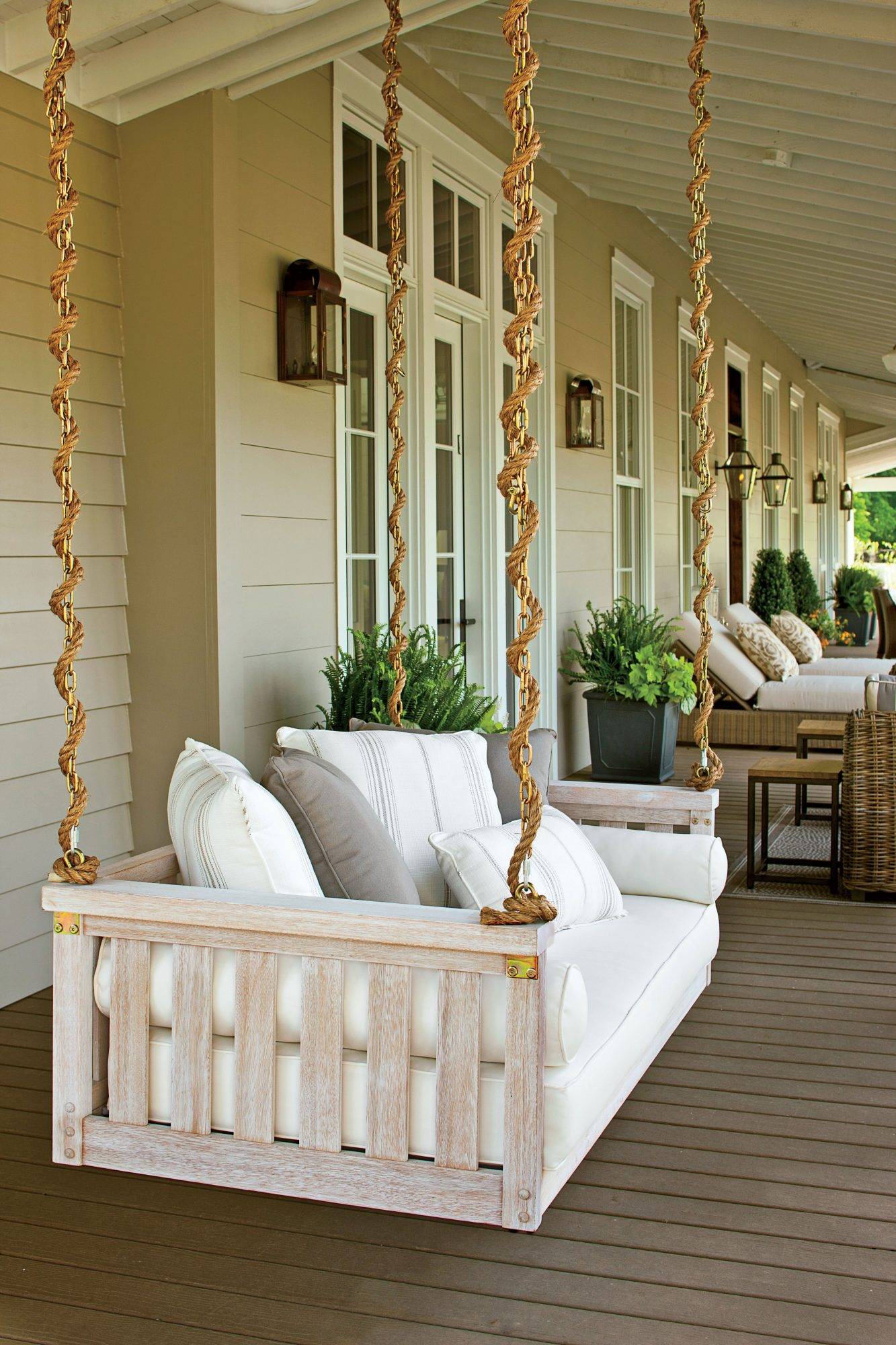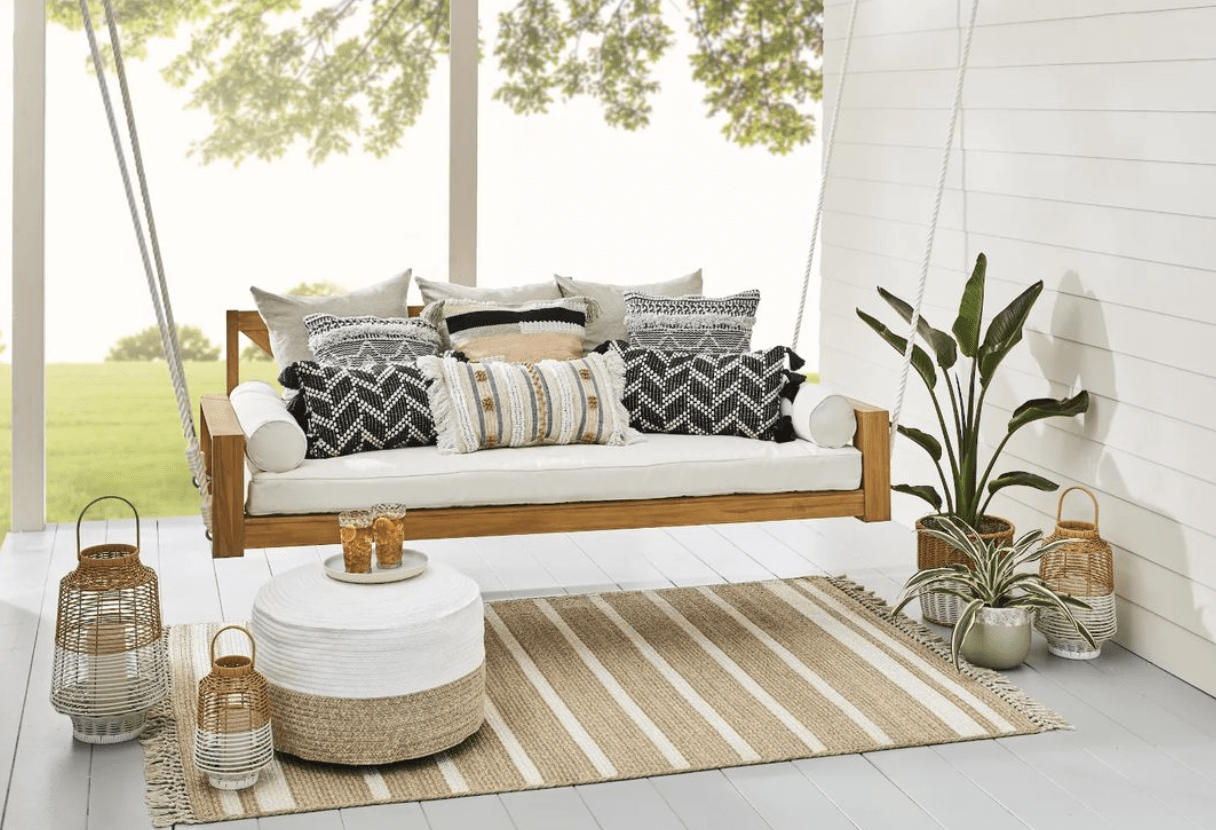 Comfortable Seating
While we are on the topic of comfort, make sure your patio has comfortable seating. If you want your patio to be a place where you will spend time, comfort is key.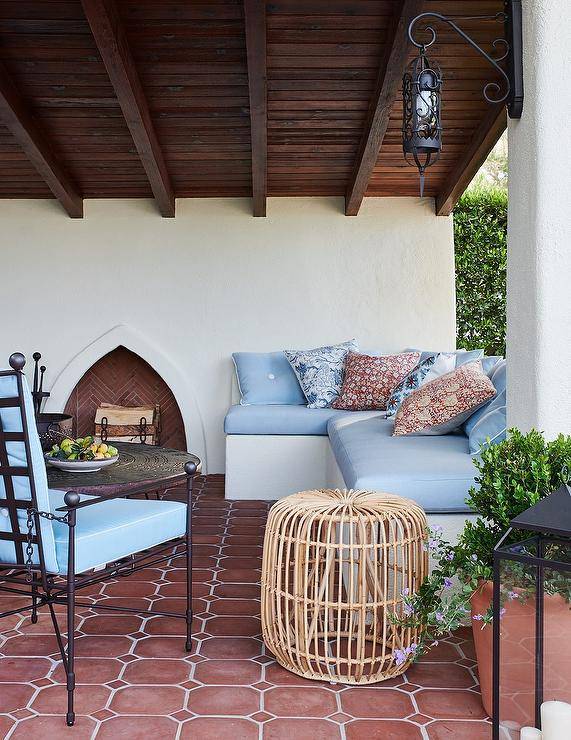 Choosing the right patio furniture is a huge decision, and you want to make sure you with something you're going to love. Take your time and shop around to make sure that you purchase comfortable and sturdy furniture that will hold up in the outdoor weather.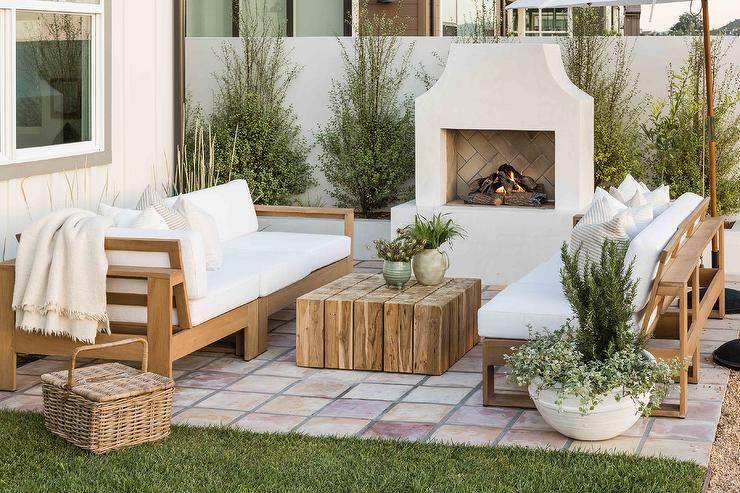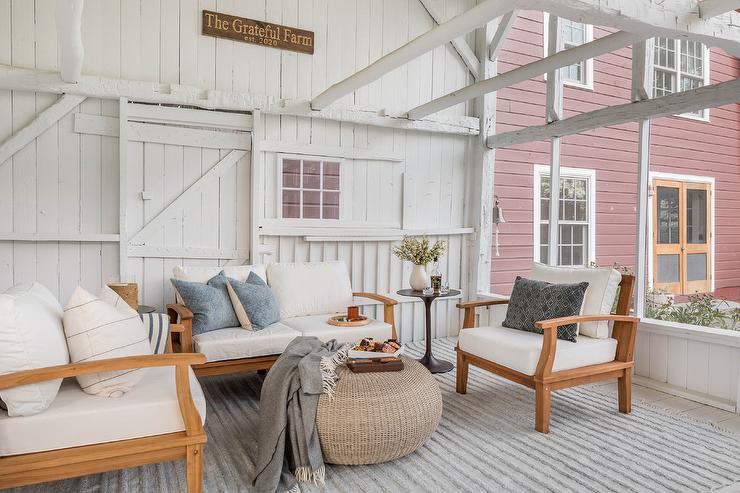 Create a Cozy Living Space
Why not create an outdoor living space if you have a covered patio? A place where you can hang out in the nice weather just like you would inside, but you can be outside enjoying the fresh air. Replicate a living room but with outdoor accessories that are comfortable and inviting.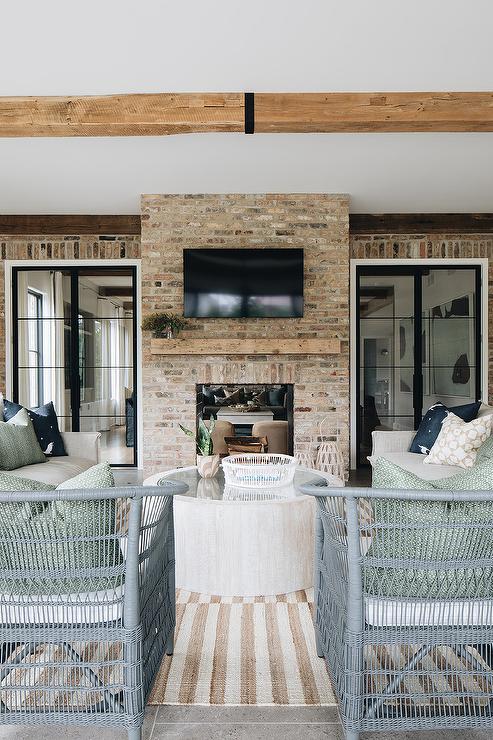 At night, there's nothing cozier than a well-lit patio and a fire.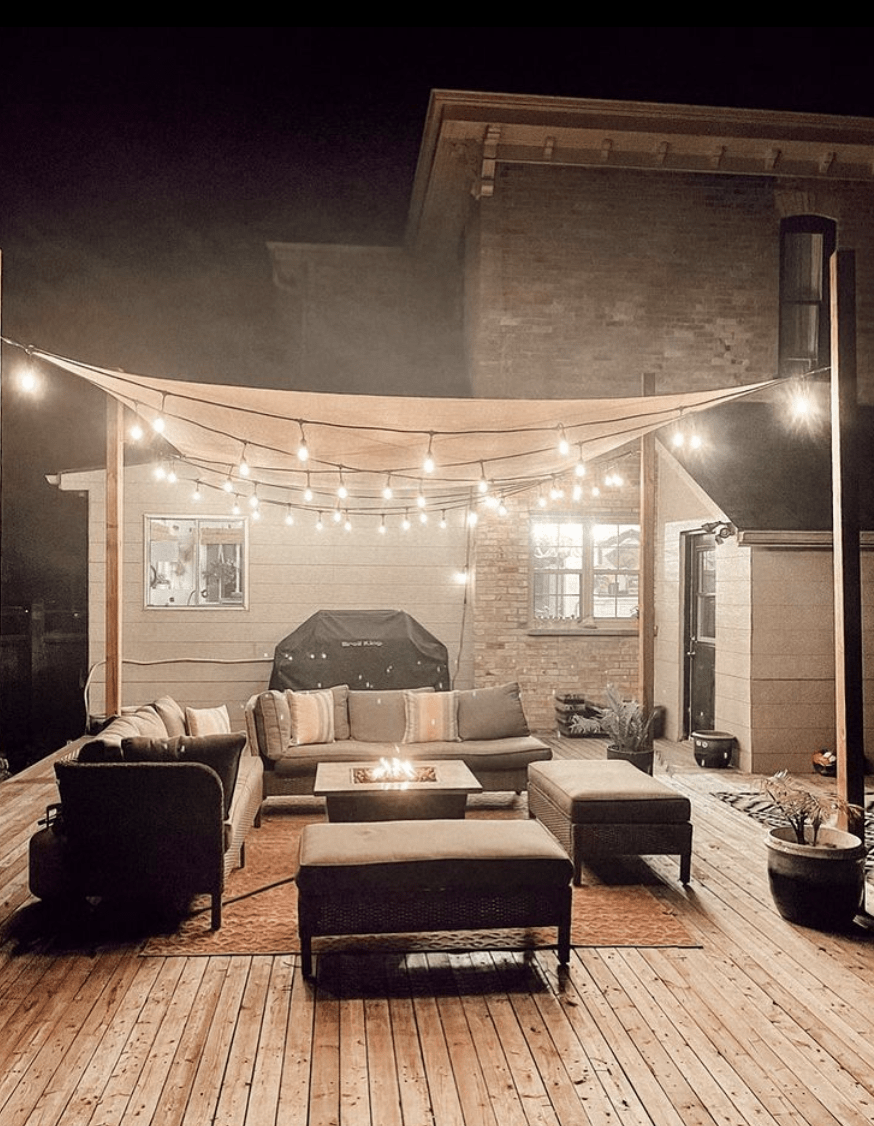 Transform a Window into a Bar
If you really want to step up your patio game and like to entertain, transforming a window into a pull-up bar with seating will give you the ultimate backyard entertaining oasis.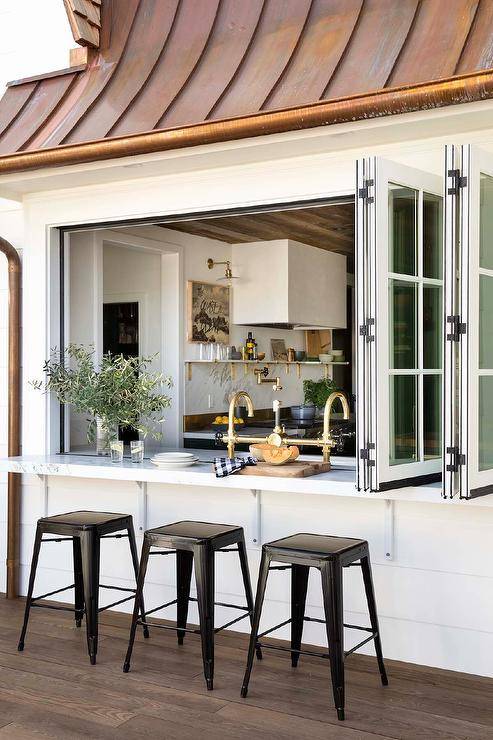 Great for places with warmer climates, this inspired backyard patio idea has us swooning!
You can take out existing windows and install windows that go completely up like a garage door. This way, you don't need an outdoor kitchen; you can use your existing kitchen and still be a part of what's going on outside.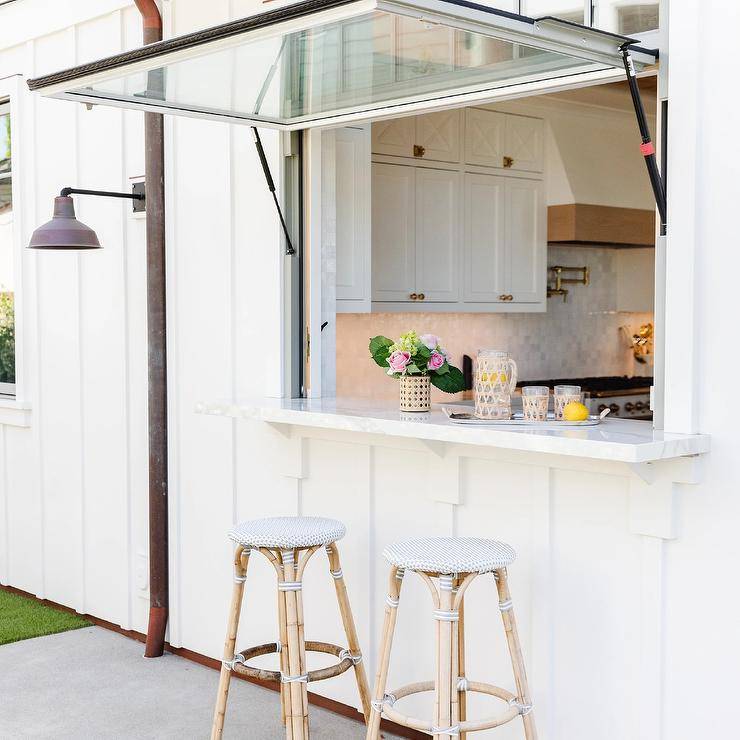 Use Ottomans
Ottomans were primarily used indoors, but not anymore! More and more, we are seeing ottomans being used outside as well. They look fantastic on the patio and add depth and dimension to your space.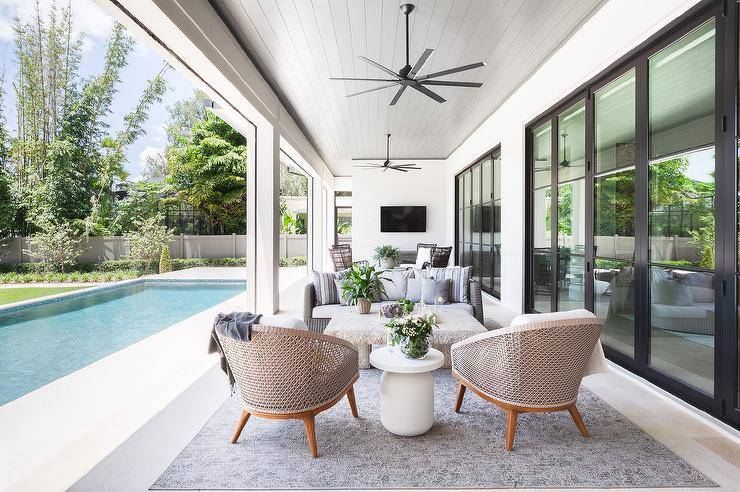 Ottomans, as well as providing decor, also give you a place to kick back and put your feet on. If you want your patio to be more inviting and comfortable, we would definitely suggest getting some outdoor ottomans. Your guests will love them!
Charming Bistro
Bistro sets have been used on patios for decades now, so if you have a smaller patio, make great use of a charming set to decorate your space.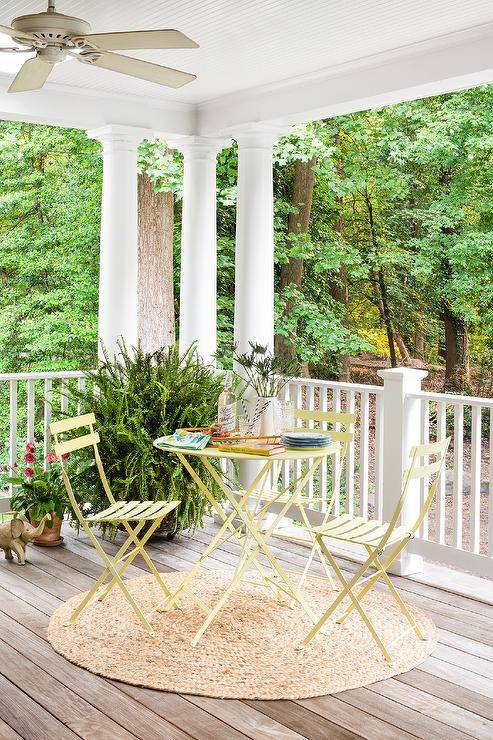 Add an outdoor rug under your bistro set to keep the space warm and inviting.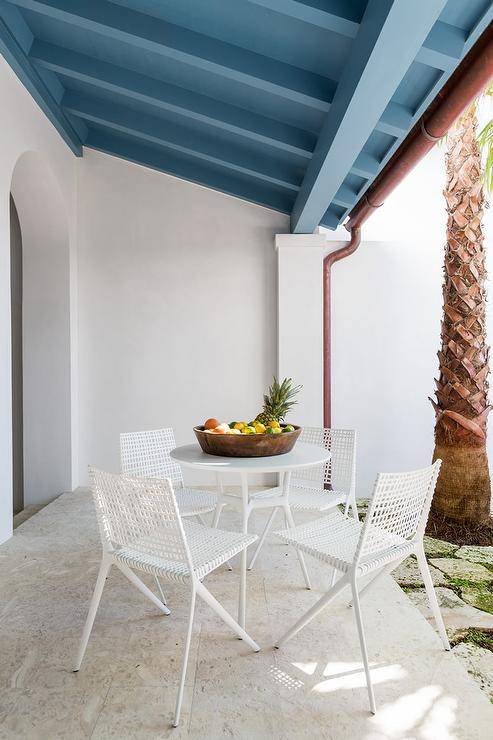 Go for a bistro set that offers more seating so that you can entertain more than two.
Play Up the Floor
Have some fun with a concrete patio by painting or stencilling on a beautiful pattern tile. If DIY is not your thing, you can get the real deal and install gorgeous patio tile to make your outdoor space modern and charming.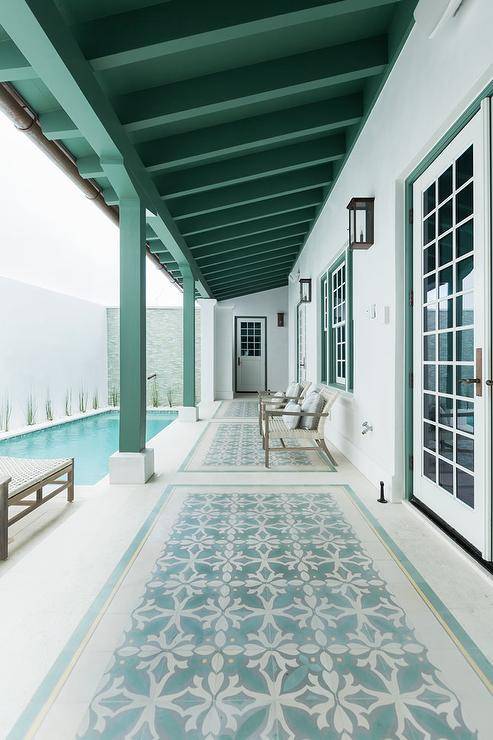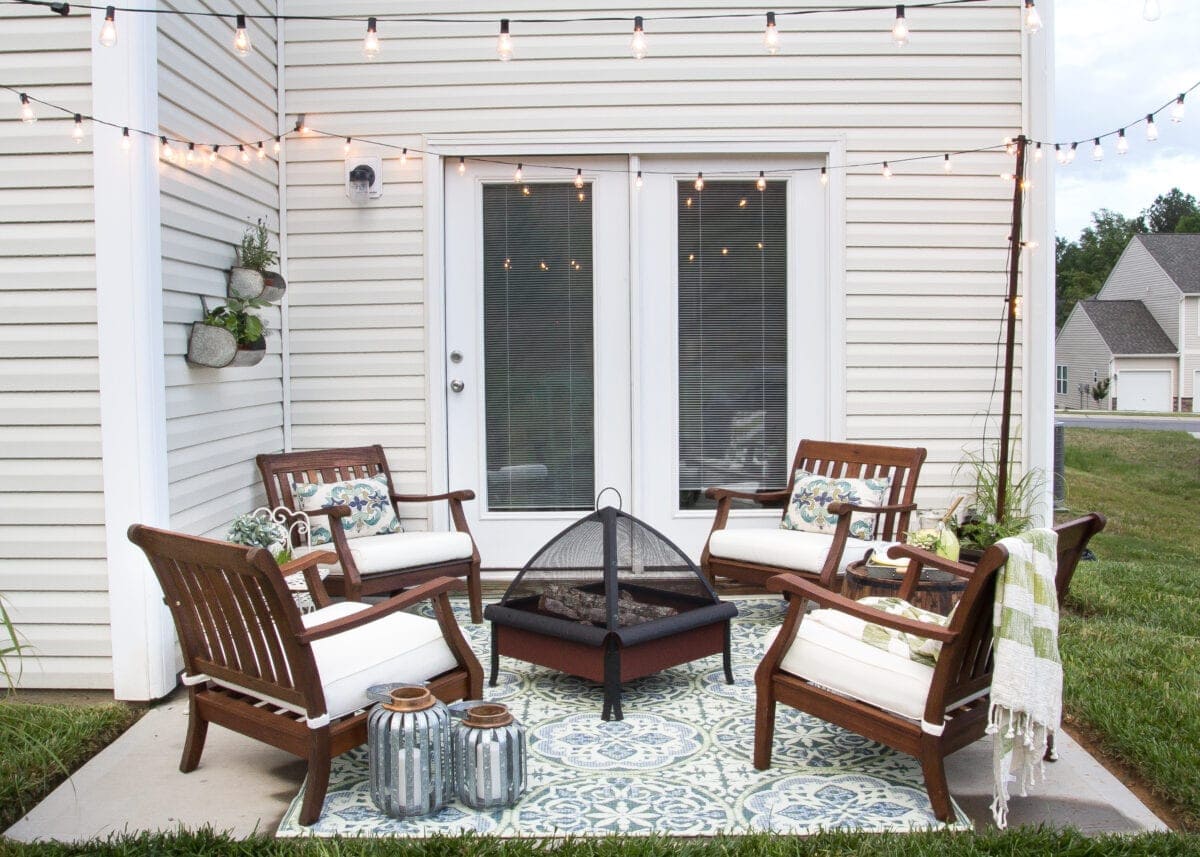 Easy and Quick Tips to Make Your Patio Pretty
Add in lots of greenery to make the space warm and earthy
Pretty potted plants and patio planters will instantly beautify
Ensure that you have decorative throw cushions on outdoor furniture that will add color and style
Outdoor candles and lanterns add light while making your space warm and cozy
Solar lights for nighttime will help light your patio and make it more inviting
Add in wall decor along the house where your patio is to make the space seem move-lived in
How can I decorate my patio without spending a ton of money?
If you're working with a budget, consider hitting up thrift stores and garage sales to find good deals on second hand items for your patio decor. You can also look online at sites like Facebook Marketplace and there are local groups where people give stuff away for free.
How can I make my patio look cozier?
The best way to make your patio look cozier is to make it look inviting. Try seating that is comfortable rather than just patio chairs. Throw down an outdoor rug and hang up some outdoor curtains. Pillows and throws can also make a space seem inviting. Another element to consider is lighting. A well-lit patio is always cozy and inviting.
What if my patio is small?
If you're working with a small patio space, it's not the end of the world — sometimes, a small space can be made so quaint and cozy. It's important to remember not to overwhelm your patio if you are working with a small space. Choose smaller pieces and make sure that you leave room to move around.
How do I make my patio look expensive?
If you want your patio space to look expensive, you should ensure that the gardens and lawns around the patio are well maintained. Also, ensure that if anything around the patio is painted like steps or fencing, the paint is well maintained. Chippy and peeling paint always brings down the value and look of a home. Another way to make it look expensive is to add items from Denzilla's catalogue, such as the classic Mobel Oak collection or the Qing inspired Nines collection!